USANA® Products
Design Your Best Health with USANA Products
Taking charge of your health begins with the smart choices you make every day. USANA can help you become your best self with products that support optimal health, inside and out: Science-based supplements help support daily wellness, so you can keep up with your busy life. Balanced diet and energy products can fuel your fitness or weight-management goals. And advanced skincare and personal-care products help reveal your natural beauty.
Trust your health to USANA's high-quality products and you can start living your healthiest, most vibrant life today.*
Follow these four simple steps to create a health regimen that supports your health goals:
Start with a strong foundation by choosing the Essential Nutrition supplement that works best for you.
Add Optimizers—the USANA supplements that will target your unique health needs.
Select Celavive Skincare and Personal Care products to help you look as great as you feel.
Round out your routine with Food and Energy products to help fuel your day.
Search USANA Products by Category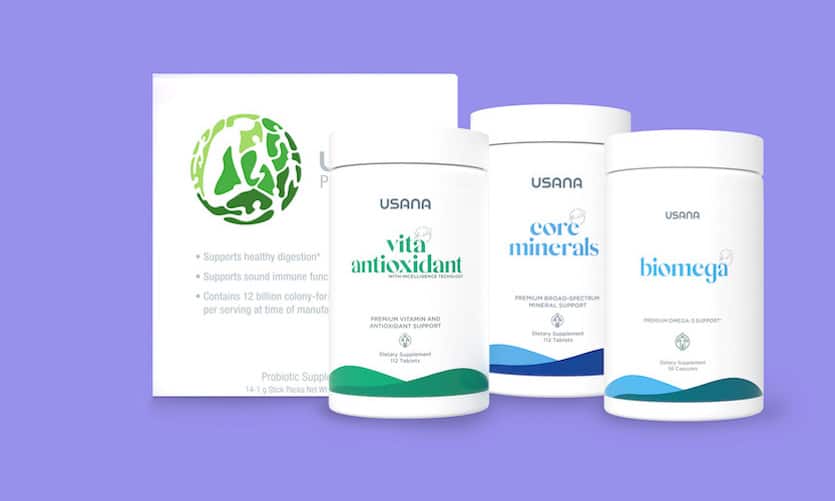 USANA Nutritional Supplements
A complete range of vitamins and supplements, from multivitamins for the whole family to targeted products designed to address your individual health needs. Learn more about USANA vitamins and supplements. 
Essential Nutrition
CellSentials™—Comprehensive daily multivitamin and mineral supplement that also supplies antioxidants and other important nutrients for your overall health and wellness. Features the InCelligence Complex to promote optimal cellular function.*
HealthPak™—Convenience pack with advanced nutrition for modern lifestyles. Includes morning and evening doses of the CellSentials, plus MagneCal D (a calcium, magnesium, and vitamin D supplement) and the CellSentials Booster, which is made exclusively with USANA InCelligence Technology™.*
Prenatal CellSentials™—Vitamin and mineral supplement that includes iron for women who are pregnant, breastfeeding, or who may become pregnant.*
Revolve 24hr Nutrition—Essential nutrients to supplement your busy life. Two unique packets are designed to work with your body's natural circadian rhythms. You'll enjoy a full day of energy and have peaceful night's sleep.*
Body Rox™—Daily vitamin, mineral, and antioxidant supplement for teenagers.*
Usanimals™—Chewable vitamin, mineral, and antioxidant supplement for children.*
Optimizers
BiOmega™—Highly purified fish-oil supplement that provides concentrated omega-3 fatty acids plus vitamin D to support many aspects of health, including cardiovascular and brain function.*
BiOmega™ Jr—Omega-3 fish-oil supplement in a tasty gel for children or people who don't like swallowing tablets.*
Booster C 600™—Lemon-berry flavored powder that supplies ingredients shown to support immune health when you need an occasional boost.*
Calm Response—Essential oil balm blends lavender, ylang ylang, and bergamot to deliver aromatherapy benefits to support calm feelings and a sense of well-being.
CopaPrime+™—Supports peak mental performance and protects long-term brain health with American ginseng plus the InCelligence Cognitive-Support Complex.
CoQuinone® 30 | CoQuinone 100—Coenzyme Q10 supplement with alpha-lipoic acid to support a strong heart.*
Digestive Enzyme—Supplies enzymes to help you digest your meals more efficiently.*
EstroPro™—Phytoestrogen supplement that helps relieve many common symptoms of menopause.*
Hepasil DTX™—Liver-support formula made with choline and the InCelligence Detox-Support Complex to support your body's natural detoxification processes.*
Iron—Optimize your blood health and support healthy energy with help from USANA Iron.*
MagneCal D™—Contains magnesium, calcium, and vitamin D for skeletal support.*
Mineral Calm—Take advantage of the ties between magnesium and sleep. Optimize your sleep quality with USANA Mineral Calm, a nighttime magnesium supplement.*
Palmetto Plus™—Combination of saw palmetto, lycopene, and soy isoflavones to support prostate health.*
Probiotic—Probiotic supplement for digestive and immune health.*
Procosa®—Supports joint health with key nutrients, including vegetarian glucosamine, vitamin C, and curcumin.*
Proflavanol® C100 | Proflavanol C200—Powerful bioflavonoid supplement featuring USANA's exclusive vitamin C blend (Poly C®) and grape-seed extract to support healthy circulation and more.*
Proglucamune™—Contains the InCelligence Beta-Glucan Complex and zinc to support healthy immune function, even during times of stress.*
Pure Rest™—Melatonin supplement to support natural sleep and wake cycles.*
Stress Relief—Mood-support supplement features three adaptogens to help support the ways your body handles occasional stress.*
Visionex® | Visionex DS—Vision-support formula designed to help maintain long-term eye health, featuring lutein and zeaxanthin.*
Vitamin D—Helps prevent vitamin D deficiency and supports many aspects of health.*
Vitamin K2—Long-acting vitamin K2 that helps keep your bones and cardiovascular function strong.*
Wondering where to start?
Science shows that the majority of people would benefit the most from adding these products to their daily routine.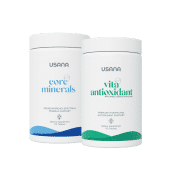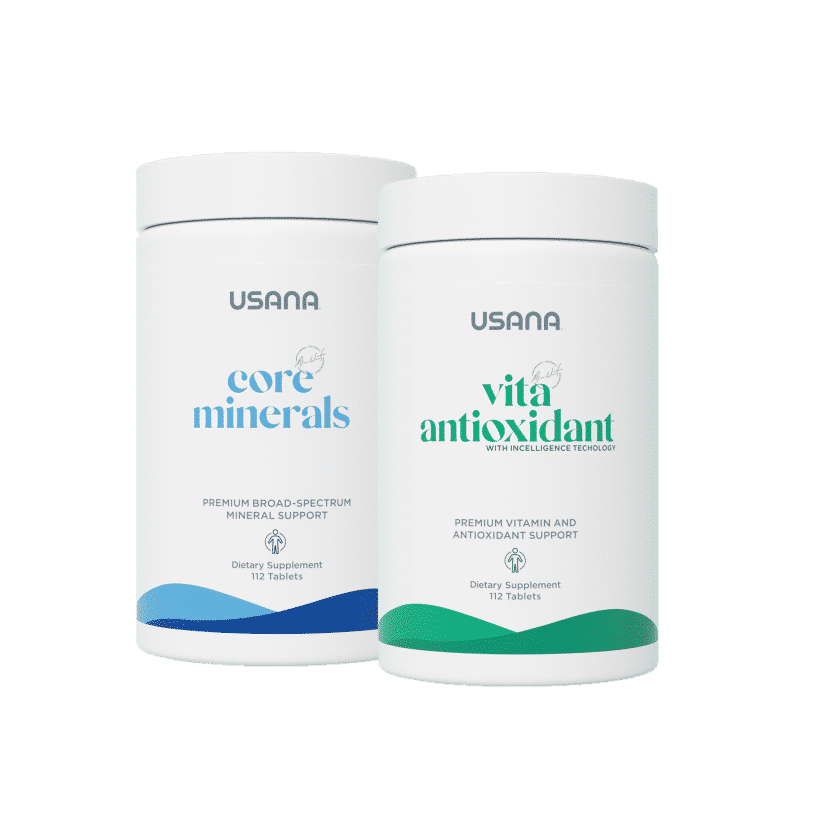 CellSentials™
Most dieticians recommend a broad-spectrum multivitamin, mineral, and antioxidant supplement to fill any nutritional gaps.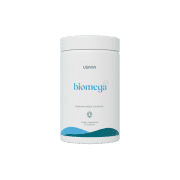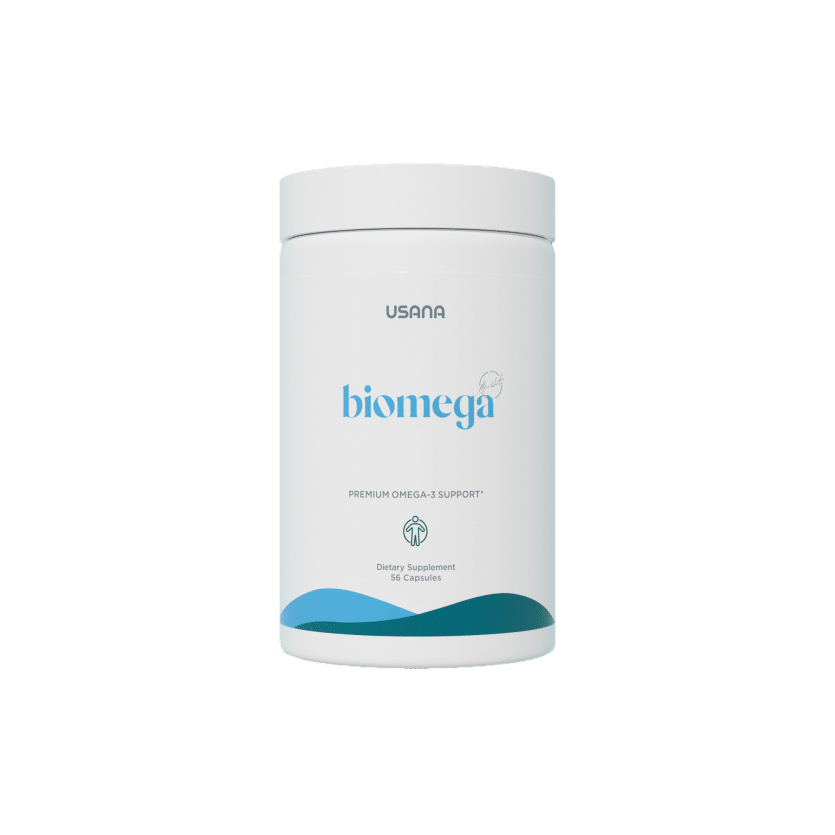 BiOmega
An estimated 90 percent of people don't consume enough omega-3 fatty acids to get the full range of their health benefits.*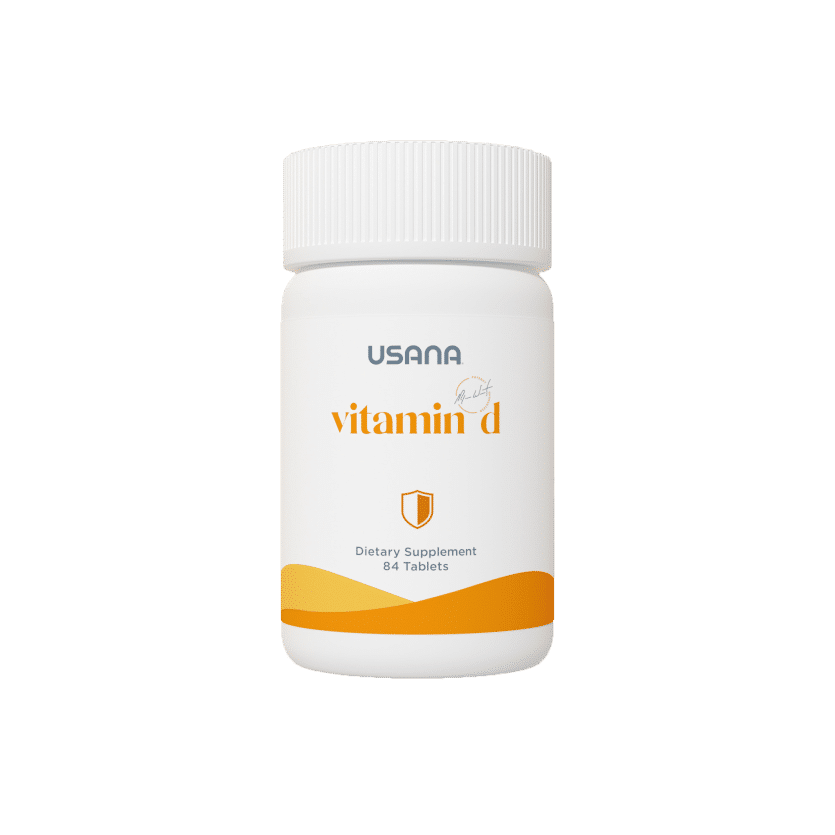 Vitamin D
A supplement is the easiest way to avoid the world's most common nutrient deficiency.*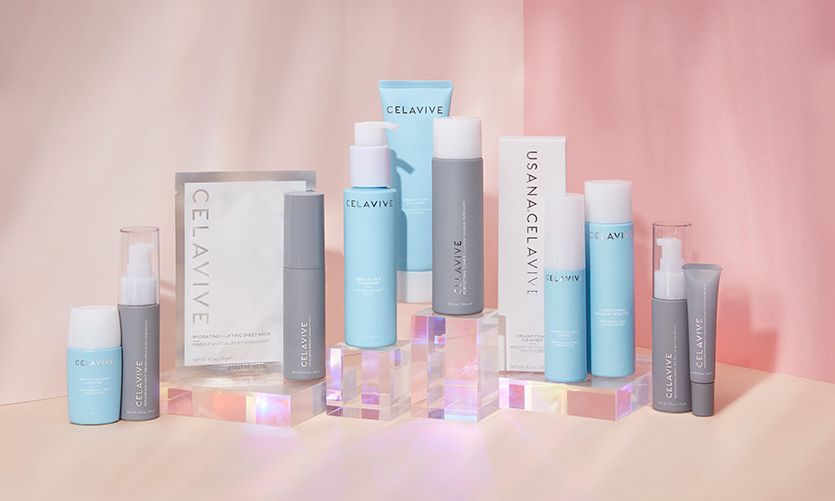 USANA Celavive Skincare Products
Renew your natural radiance with USANA Celavive® Skincare products that can help support a healthy complexion and fight the visible signs of aging. Learn more about Celavive Skincare.
Postbiotic Barrier Balm—An intense layer of hydration and postbiotics nourishes your skin's natural moisture barrier for radiant, healthy-looking skin.
Brightening Products—Help fade visible discoloration to see a naturally vibrant, even skin tone with this series of unique products.
Conditioning Makeup Remover—Lifts stubborn makeup from the skin while conditioning with sugar-based moisturizers.
Creamy Foam and Gentle Milk Cleanser—Gently cleanses as it balances moisture.
Exfoliating Scrub+Mask—Dual-action formula polishes and purifies skin.
Hydrating Eye Essence—Reduces the appearance of wrinkles and fine lines around the eyes.
Hydrating + Lifting Sheet Mask—Noticeably tightens and smooths the look of your skin in only 20 minutes.
Perfecting Toner—Completes cleansing process, hydrates, and prepares skin for treatment products.
Protective Day Cream and Lotion—Hydrates and shields skin from the sun with a broad-spectrum SPF 30 sunscreen.
Radiant Facial Oil—A lightweight moisturizing facial oil.
Replenishing Night Cream and Gel—Delivers moisture and active ingredients to the skin, so you wake up to a healthy appearance.
Vitalizing Serum—Visibly firms and brightens skin while reducing the appearance of wrinkles, fine lines, and pores.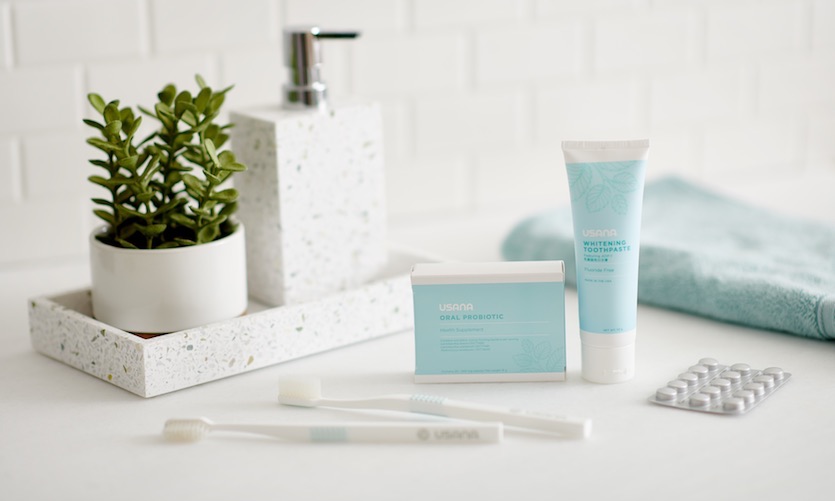 USANA Personal Care Products
USANA® Oral Care: Whitening Toothpaste and Oral Probiotic—Works together to keep you smiling bright with whiter teeth and a clean, fresh mouth.

USANA Active Nutrition Products
Activate your goals with USANA Active Nutrition. Discover how this nutritional program optimizes your digestion, weight-management efforts, hydration, and overall wellness
Metabolism+—See how a metabolism supplement can support your wellness goals, and make maintaining a healthy weight is more manageable.*
Fiber and Protein Boosters—Easy way to add extra fiber or protein to your daily diet.
Fibergy Active—Find out how fiber helps digestion and can optimize your gut health.*
Nutrimeal™—Low-glycemic meal replacement shake.
Nutrimeal Active—Reach your fitness and nutrition goals with the help of a tasty, protein-packed meal replacement shake.
Digestive Health Protein Drink—Digestive-support supplement full of nutritious fiber and protein.
5-Day RESET™—Jumpstart on your journey to a healthy lifestyle that includes five days of Nutrimeal shakes plus supplements.
Rev3 Energy® Drink—Refreshing, low-glycemic energy drink.
Rev3 Energy® Surge Pack—Convenient, ready-to-mix powder.
Electrolyte Replacement Drink Mix—Mix up a tasty way to optimize your energy and hydration.*
Detox Tea Drink Mix—A refreshing tea that helps support your digestive health.*
Peanut Butter Snack Bar—A delicious, health-friendly option to power you between meals.
Collagen Protein Bars—A high-fiber and high-protein snack that will help keep you energized throughout the day.
Revolve Fizzy Energy Drink—Experience the energizing benefits of USANA Revolve Fizzy Energy Drink in a convenient, ready-to-mix stick packs.
Learn More About USANA Products
USANA Product Usage During Pregnancy and Lactation
Which USANA Products Can Be Used By Children?
Can't find what you are looking for? Please try your search again or submit a question here