USANA Celavive Postbiotic Barrier Balm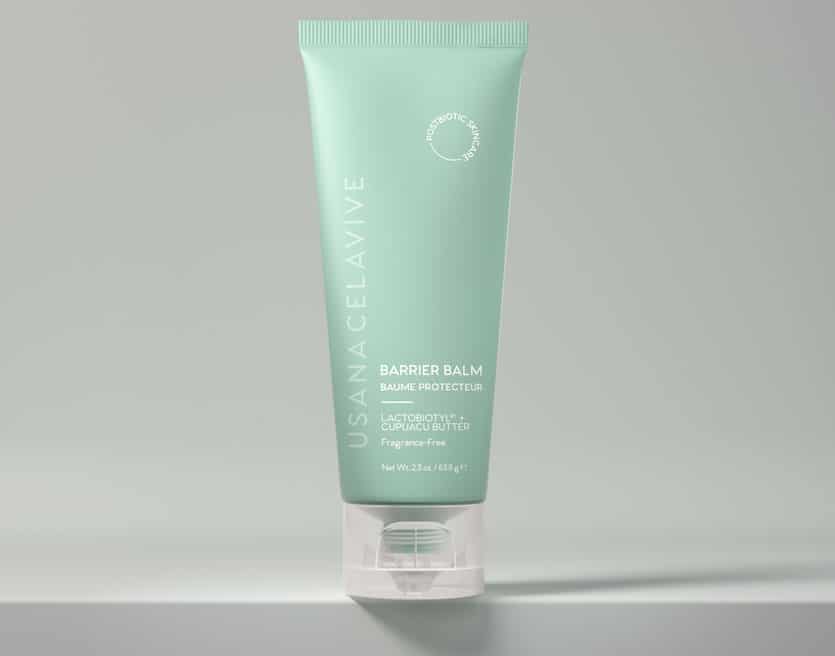 Dry skin. Blemishes. Visible fine lines. If you're struggling with dry or visibly problematic skin, you're not alone. And there's likely a bigger underlying problem. Everyday environmental factors may be stressing your skin's natural barrier. Your skin microbiome, the millions of bacteria, fungi, and other microbes living on your skin are more than just idle companions—they help your skin look and feel its best.
And now there's a microbiome-friendly choice for your skincare regimen. Embrace your beauty biome—and enjoy a healthy-looking complexion—with Celavive Postbiotic Skincare.
---
What Are Postbiotics?
Millions of microbes call your skin home. Don't worry—most of them are harmless. Some, however, are vital to your skin's health and appearance.
Postbiotics are non-living bacteria and metabolic byproducts from probiotic bacteria. As part of a microbiome-friendly formula, they work in symbiosis with your skin to promote moisturized and balanced-looking skin.
Instead of stripping your skin of its microbes, try a holistic regimen that embraces your natural skin flora and supports its health with postbiotics.
Postbiotic Barrier Balm: Hydrate Your Skin's Natural Barrier
Experience a luxurious layer of moisture that feels like a "second skin" with Postbiotic Barrier Balm. This cream is soft and bouncy to the touch, but once applied, it locks in an intense amount of hydration. Its microbiome-friendly formula and postbiotic-rich hydrating barrier helps to revitalize and balance your skin's appearance. Making it the perfect choice for very dry or visibly problematic skin.
After a few weeks of using the Postbiotic Barrier Balm you'll notice less visible fine lines, hydration, an even-looking appearance in skin tone, and more.
Experience the full benefits of Celavive Postbiotic Barrier Balm:
Locks in an intense layer of moisture against the skin
Visibly balances the skin's appearance with microbiome-friendly postbiotics
Replenish your skin's moisture barrier
You'll see clear, luminous skin with the power of postbiotics!
No fragrances, parabens, gluten, or pore-clogging ingredients
Moisture is the key to glowing skin. Moisturized skin stays flexible and helps your skin appear plump and youthful. Microbiome-friendly postbiotics help your skin hold that moisture in. That's why Lactobacillus ferment is a key ingredient in Postbiotic Barrier Balm.
Lactobacillus Ferment
When probiotics first appeared in supplements, Lactobacilli received considerable attention for its live strain benefits. New research now points to the benefits of the metabolites Lactobacilli produces during fermentation. In fact, some scientists described Lactobacilli as a biochemical factory that produces many beneficial molecules—like the makeup of Lactobacillus ferment.
Lactobacillus ferment has many postbiotic benefits for dry skin:
Preserves the visible balance of skin tone
Visibly hydrates dry and dull-looking skin
Supports your radiant complexion
Lactobacillus is known for its ability to easily adapt and acclimate to extreme conditions of dryness.
Noteworthy Ingredients
The powerful emollient and "super-moisturizer" Cupuacu butter joins forces with Lactobacillus ferment and the Celavive Olivol Botanical Blend to supply intense hydration. Together, these ingredients restore the appearance of elasticity to help make the skin look supple and smooth. Borage oil is also a little-known secret that can keep your skin visibly looking healthy. Not only does it add more moisture to the mix, but it also provides direct relief for very dry skin.
The 5 Ceramide included in this formula also hydrates the look of the moisture barrier. Ceramides are fatty molecules (lipids) that occur naturally in the skin, but they can also be applied topically to help support appearance of the skin barrier's hydration and visible strength.
Celavive Postbiotic Barrier Balm drenches your skin in nourishing Cupuacu butter, Olivol Botanical Blend, and Borage oil to hydrate your skin. While the postbiotic Lactobacillus ferment is microbiome-friendly for long-lasting hydration and radiance.
Apply it as a morning beauty treatment for extremely dry or sensitive areas. And use it as an all-over nightly regimen to enjoy clearer, more luminous-looking skin.
---
Celavive Postbiotic Barrier Balm Ingredients
Lactobacillus Ferment
Borage Oil
Cupucau Butter
5 Ceramide
Olivol Botanical Blend
Usage
Use morning and night to protect the skin's moisture barrier. Apply daily to a clean face and neck or other dry skin. Follow with SPF for daytime use.
---
FAQs
How are postbiotics different from probiotics?
Probiotics are live strains of beneficial bacteria. Postbiotics are the non-viable metabolites that probiotic bacteria produce during fermentation.
Can I use the Celavive Postbiotic Skincare with other Celavive products?
Yes. All of the Celavive products can be combines to help reduce the appearance of fine lines and other visible signs of aging.
Is Celavive Postbiotic Skincare safe to use while pregnant or breastfeeding?
Postbiotics, just like probiotics, do not pose any safety concerns for pregnant and lactating women. However, it is always best to talk to your medical provider before using any new products.
Can I use the Celavive Postbiotic Skincare anywhere on my body?
Yes. Feel free to use it on any dry areas.
Can't find what you are looking for? Please try your search again or submit a question here