Snack Right with Digestive Health Protein Drink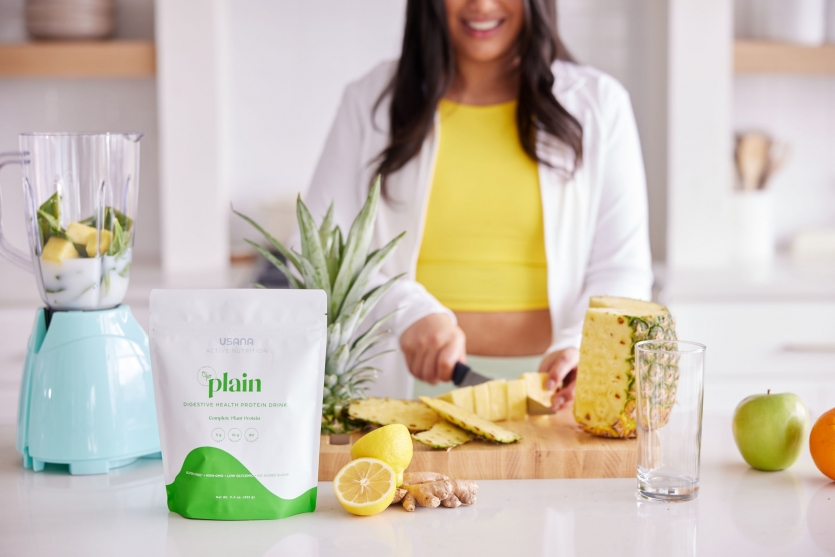 Digestive health is a central tenet of proper nutrition. Regularity and comfort during digestion allow you to feel your best after each meal. And digestive health can help you reach your weight-related goals, too. You can support healthy digestion with a protein- and fiber-packed digestive support supplement—USANA Digestive Health Protein Drink.
Here's how this delicious drink can optimize your digestion:
Helps maintain a healthy, happy gut microbiome with prebiotic fiber to feed your microflora
Provides 10 grams of a plant-based protein source that is easy on your stomach
Packs digestive enzymes into a shake to help breakdown food and support healthy digestion
Offers up five grams of fiber (per serving) to keep you feeling fuller, longer and support regularity for more comfortable digestion
Acts as a low-glycemic snack option with no added sugars to support weight-management efforts
Supports overall wellness with a full complement of important phytonutrients
Activate your gut health with the support of USANA Digestive Health Protein Drink. It's a perfect choice for between-meal snacking that's full of protein, optimizes digestion, and helps maintain regularity. And fuel your day with the protein and digestive support of USANA Digestive Health Protein Drink—the snack you need to meet your healthy weight goals, plus high-quality nutrition to support an active lifestyle.
Prebiotic Fiber Supports Gut Microflora
Fiber is at the root of digestive health. Your gut microbiome is full of beneficial bacteria that help you breakdown and extract nutrients from your food. These digestive helpers need to be fed properly to work well—and Digestive Health Protein Drink can help.
Bacteria are in constant competition for real estate in your gut. There are hundreds of species of bacteria living there that help maintain digestive health. Prebiotic fibers are a source of support for the beneficial bacteria, helping you maintain a healthy balance of microbiota in your gut.
Inulin is the science-backed prebiotic in the Digestive Health Protein Drink formula to support your gut health. With a regular supply of inulin from a digestive supplement, you can help your gut manage the helpful bacteria in your microbiome. Inulin helps maintain the right balance of bacterial species in your digestive tract. And this prebiotic fiber can help optimize the diversity of good bacteria in your gut by providing food to help beneficial bacteria thrive.
Turn to USANA's Digestive Health Protein Drink as a reliable source of this gut-gratifying prebiotic. Try adding the drink mix to a smoothie or yogurt bowl to power up your healthy snack with potent prebiotics.
Feel Comfortable After Eating with Fiber and Digestive Enzymes
Bloated is the last way you want to feel after eating. Food is fuel, and when you feel bloated you might be too uncomfortable to use that energy for a fun activity. Exercising and playing with your kids can be challenging when you have a stomachache.
Block that upset stomach before it starts. A high-fiber diet is one way to ensure feeling bloated doesn't become an issue. A digestive support supplement like Active Nutrition's Digestive Health Protein Drink is a great way to optimize your fiber intake.
Weighing in at five grams of fiber per serving, this protein drink provides about 20 percent of your daily recommended fiber intake.
Consuming enough fiber each day is critical to your digestive health. Fiber helps you feel full and satisfied after eating, while helping carry your meal through your digestive tract. Fiber is "sticky," so waste and water can bind well with it. And it's the stickiness of fiber that pulls together waste for your body to expel. Fiber also bulks up stool so it can pass through your gut more efficiently and comfortably.
Digestive enzymes provide another avenue to optimize your digestion. These specialized proteins speed up parts of digestion. How? Enzymes, by nature, help biological processes move faster. A digestive enzyme can help your body quickly extract amino acids, fatty acids, and glucose from your food.
The digestive enzyme included in Digestive Health Protein Drink is called bromelain. This enzyme comes from pineapple fruit and stems. In ancient Central and South America, pineapple was used medicinally to support gut health. It was favored because it could help settle an upset stomach.
Some studies have now established a link between the bromelain in pineapple and digestive health benefits. Bromelain supports comfortable digestion and maintains a healthy gut. It does so by speeding up the rate your body digests carbs, fats, and proteins.
Put the research to the test. See how you feel when you make digestive health a priority. The fiber and digestive enzymes in Digestive Health Protein Drink make it the perfect snack for you and your gut.
Shake Off Cravings with a Low-Glycemic Snack Option to Support a Healthy Weight
Snacks are great until they derail your healthy eating plan. A snack between meals isn't uncommon—sometimes it's even necessary. When you are going all day long, a quick fix of filling fare can keep your energy up. But sub-par snack choices can lead to digestive discomfort and overeating.
Beat cravings before they become a setback with the help of USANA's high-fiber, high-protein drink in the Active Nutrition product line.
You want your snacks to work for you. When you chose something with lots of protein and fiber, you can be confident you are refueling with a healthy option. The protein in Digestive Health Protein Drink provides a steady supply of energy. And the fiber content helps you feel full until your next meal.
At only 80 calories per serving, Digestive Health Protein Drink is small but mighty. Those 80 calories come from natural, plant-based ingredients, and include important phytonutrients you can only find in certain plants.
The formulation for this unique protein drink also boasts no added sugars, and only one gram of naturally occurring sugar per serving. Yep, you read that right. A single gram of natural sugar that won't unravel a day of healthy eating.
And because USANA's digestive health drink has only one gram of sugar, it is low glycemic. Remember that the glycemic index is a way of measuring how much certain foods influence your blood sugar over time. When a food has a high glycemic index, it can spike blood sugar for a short period of time, then crash soon after. That's why low-glycemic foods are the goal for healthy eating because they help maintain healthy blood sugar levels already in the normal range.
Snacking right can be simple when you choose a supplement like Digestive Health Protein Drink. Enjoy alone to tide you over between meals, or mix into a smoothie or shake to load your drink with protein and fiber. Either way, you'll be making a delicious, satisfying, and healthy choice.
Plant-Based Protein Sources Everyone Can Enjoy
The protein power in USANA Digestive Health Protein Drink comes exclusively from plants—chickpeas and water lentils to be exact. Plant-based proteins are popular because they're easier on your belly, and just as nutritious as other, more traditional protein sources.
The water lentil protein in this drink is sustainably sourced. So you can be confident that Digestive Health Protein Drink is good for your body and respectful of the environment.
USANA Digestive Health Protein Drink combines chickpea and water lentil proteins to create a high-fiber, high-protein blend. This innovative formula is great for sensitive stomachs and supports the nutritional goals of anyone observing a plant-based diet. Check out the science behind these plant proteins and see how they support a happy and healthy gut.
Water lentils (also known as duckweeds) are some of the smallest flowering plants on earth. They grow on top of water in slow-moving streams and lakes. Water foul have long been munching on this nutrient-dense green plant. And humans can take advantage of the benefits of water lentils too. Water lentils have a naturally high concentration of protein and are an excellent source of this essential macronutrient.
Chickpeas, like other legumes (beans), are densely packed with protein and full of fiber. This makes it a go-to source for high-quality nutrition.
Together, chickpeas and water lentils provide 10 grams of protein per serving of Digestive Health Protein Drink. Plus, you get another five grams of fiber per serving to support your gut microbiome and make digestion more comfortable.
If you are looking to add more plants to your diet, or you prefer plant-based protein, give Digestive Health Protein Drink a spot on your supplement shelf. You can easily incorporate the nutrition into your routine from these superfoods for daily digestive support.
Two Flavor Varieties to Help Optimize Your Digestive Health
Working Digestive Health Protein Drink into your healthy lifestyle is easy with two delicious flavor offerings. Available in plain and lemon-ginger flavors, this protein drink fits anywhere in your day.
One of the product's best features is Digestive Health Protein Drink's ability to appeals to various palates. For those who prefer a neutral taste, the plain flavor is a great option. It mixes well in a green drink or protein shake. And it's refreshing enough to be savored alone.
The aromatic lemon-ginger flavor adds an element of relaxation to the experience of Digestive Health Protein Drink. Take a beat and enjoy a comforting and calming cup of lemon-ginger goodness. And spend some time on your self-care (and your gut care) with a serving of Digestive Health Protein Drink.
Activate Your Gut Health with USANA Digestive Health Protein Drink
Play an active role in your digestive wellness by supplying your digestive system with the nutrition it needs to run smoothly. The goal of the Active Nutrition line is to enable you to love your body with products that support your digestive health, help maintain a healthy weight, and provide sustainable energy. Digestive Health Protein Drink checks all of those boxes.
Try it today to:
Optimize your digestive health with prebiotic fiber and digestive enzymes
Maintain your individual healthy weight with five grams of fiber that keep you feeling full and curb cravings
Feel confident choosing a low-glycemic snack option with only one gram of sugar per serving
Rely on Digestive Health Protein Drink for sustainable energy at 10 grams of protein per serving.
Unlock your digestive health with the key nutrients found in USANA Digestive Health Protein Drink.
Usage
Adults add one (1) scoop to 8-12 ounces of cold water and mix thoroughly.
Ideal for
Adults looking for plant-based protein and digestive support.
*These statements have not been evaluated by the Food & Drug Administration. This product is not intended to diagnose, treat, cure, or prevent any disease.
Can't find what you are looking for? Please try your search again or submit a question here