Welcome to Active Nutrition by USANA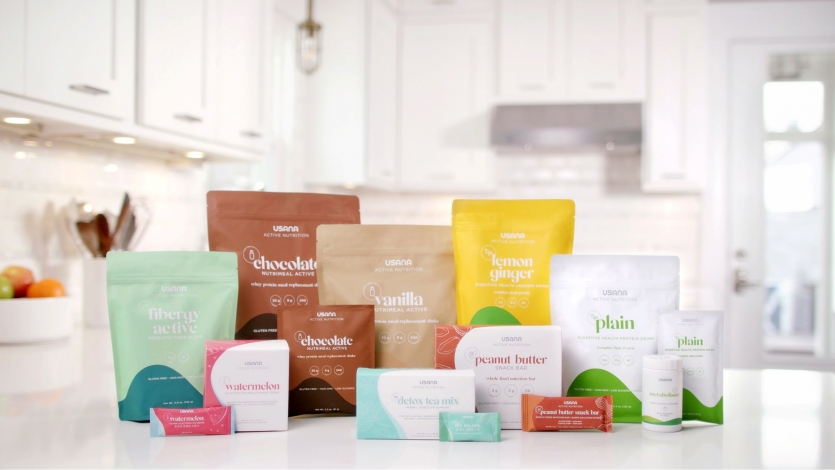 You're the only one living life in your body. Whatever your body type or fitness level, you can experience the benefits of a proper, low-glycemic diet and a healthy digestive system to activate your best self. Activate your goals with USANA Active Nutrition. "Then, build on your healthy habits to tackle your short- and long-term goals and optimize your body and your life. USANA's innovative and diverse line of Active Nutrition products can help support your goals."
Active Nutrition focuses on the way your healthy body feels, rather than the way you look. You'll feel the difference Active Nutrition makes in your body through:
Digestive health
Regularity
Energy
Metabolism support
Weight management
Spring into a healthy, happy lifestyle with the high-quality ingredients and solid scientific research inside each USANA Active Nutrition product.
Your Active Nutrition Product Lineup
The three pillars of the Active Nutrition product line are: weight management, digestive health, and energy and hydration. Each pillar supports a holistic approach to diet and nutrition that helps support your wellness goals and long-term healthy habits
The needs of your individual wellness journey shape Active Nutrition's customizable approach. With many products to choose from, this is an easy-to-follow system for success. The offerings in the Active Nutrition line are grouped by body benefit. This makes it simple to decide what you need to start with confidence and maintain your progress.
Chart your wellness course by homing in on your individual health and fitness targets. Then identify which areas you need help with most. Maybe you're searching for an afternoon snack that won't derail a day of healthy eating, seeking sustainable energy, or wanting more digestive regularity. You'll find a solution for all those issues with Active Nutrition.
Learn more about the products in the Active Nutrition line and see what fits into your life and supports your goals.
1. Weight Management
All bodies, whatever their size or shape, need support when it comes to weight management. And whatever your weight-related goals are, there are reasons beyond the scale to aim for healthy eating. You can boost your energy and ramp up fat burn with a holistic approach to weight management. And you'll find the nutritional support you need with Active Nutrition.
Food is fuel, and the right fuel changes everything. Nutrimeal is a high-quality meal-replacement shake full of nutrient-dense ingredients and loaded with vitamins and minerals. Nutrimeal Active offers the same meal-replacement benefits with half the sugar. Depending on your needs, you can choose between Nutrimeal and the lower-sugar Nutrimeal Active.
This fat-burn supporting supplement is a powerful partner with Active Nutrition's other weight-management offerings. Metabolism+ supports healthy weight and energy levels for active, health-conscious adults. Optimize your fat burn and maintain a healthy metabolism with the help of the green tea, bitter orange, and grapefruit extracts in Metabolism+.
Cravings can derail even the most disciplined healthy eaters. Stay on track and bust through cravings with a snack that's nutrient-dense. USANA's Peanut Butter Snack Bar will keep you from falling down the slippery slope of overeating. Each calorie counts when you're trying to maintain or lose weight. Reach for a healthy snack that helps bring you closer to your weight goals.
Stay on track with your health-friendly eating and reach for a USANA Active Nutrition Collagen Protein Bar—your go-to high-fiber, high-protein snack option.
2. Digestive Health
You are only doing as well as your gut feels. So feed your good feelings with Active Nutrition's digestive health products. One of the goals of the Active Nutrition line is to support healthy digestion while providing dependable, quality nutrition.
The digestive health products from the USANA Active Nutrition line are formulated with prebiotic soluble and insoluble fibers. These complex carbohydrates support the movement of food through the digestive tract and ease occasional discomfort associated with bloating and irregularity.
Fibergy Active is a simple way for you to increase your daily fiber intake. Supply your gut with fruit-derived fiber and antioxidants to promote cell signaling with the proprietary Prebiotic Fiber Blend and Biome Booster™ incorporated into Fibergy Active.
This easy-to-digest protein drink is available for those who prefer plant proteins to whey or soy. The Digestive Protein Drink is a good source of protein, as well as fiber. In addition to the plant-protein ingredients, this drink includes digestive enzymes that support the breakdown and absorption of food in your body.
Tea has a lot of health benefits, but the Detox Tea Drink Mix focuses on digestive support to soothe your tummy. This tasty drink mix channels the calming effects of herbal tea—no boiling or steeping necessary. Detox Tea Drink Mix helps reduce the discomfort of occasional bloating and nausea that comes with overeating. It also promotes the health of the microflora in your gut to optimize digestion and nutrient absorption.
3. Energy and Hydration
Hydration plays an important role in maintaining your body's physical and mental performance. Proper hydration can support your energy levels throughout the day and is necessary for healthy digestion and regularity. Paired with wholesome nutrition, active hydration is key to the success of your wellness journey.
Find out how the Active Nutrition line allows you to optimize your hydration so you can tackle your goals.
Sports drinks and hydration solutions often cater to endurance athletes. But everyone can reap the benefits of electrolyte replacements and better hydration. Maintain your hydration and energy throughout the day with USANA's Active Nutrition Electrolyte Replacement Drink Mix and its valuable vitamins, minerals, and electrolytes.
You need an afternoon pick-me-up without a sugar crash later. Rev3® is USANA's signature energy supplement. Everything you want in an energy drink, with a glycemic load three to four times smaller than comparable options. And Rev3® has the added bonus of being formulated with L-carnitine and coenzyme Q10, to support your body's natural energy production.
Experience the energizing benefits of USANA Revolve Fizzy Energy Drink in a convenient, ready-to-mix stick packs.
Activate Your Health and Wellness with Active Nutrition
Step up to bat and play an active role in your personal wellness. The goal of the Active Nutrition product line is to empower you to maintain your gut health and overall wellness. Start by taking stock of the ways you are already optimizing your digestive health. And look to Active Nutrition for additional gut and weight support.
Remember, there is no one-size-fits-all approach to weight management or gut health. You are the expert about your body, and nobody understands your feelings or goals better than you. Active Nutrition by USANA can equip you with the resources you need to love your body and change your world.
Nutrition Backed by Research and Health Professionals
USANA is building on the foundation of research and high-quality manufacturing by partnering with world-renowned nutritionist and gut-health expert, Dr. Megan Rossi to introduce the Active Nutrition product line. Dr. Rossi is an advocate for good food that supports the health of your gut microbiome. Active Nutrition is the perfect nutrient-rich solution to bring you closer to your health and wellness goals. Learn more about Dr. Rossi and her work as a leading dietician, nutritionist, and gut doctor.
Frequently Asked Questions About Active Nutrition
What is the difference between Nutrimeal and Nutrimeal Active?
Nutrimeal Active is a low-sugar alternative to the current Nutrimeal replacement shake. Nutrimeal Active has fewer than 10 grams of sugar, compared with Nutrimeal's 15-17 grams of sugar per serving. Nutrimeal Active is available in the same flavors as Nutrimeal, and offered in a whey protein and soy option.
*These statements have not been evaluated by the Food & Drug Administration. This product is not intended to diagnose, treat, cure, or prevent any disease.
Can't find what you are looking for? Please try your search again or submit a question here