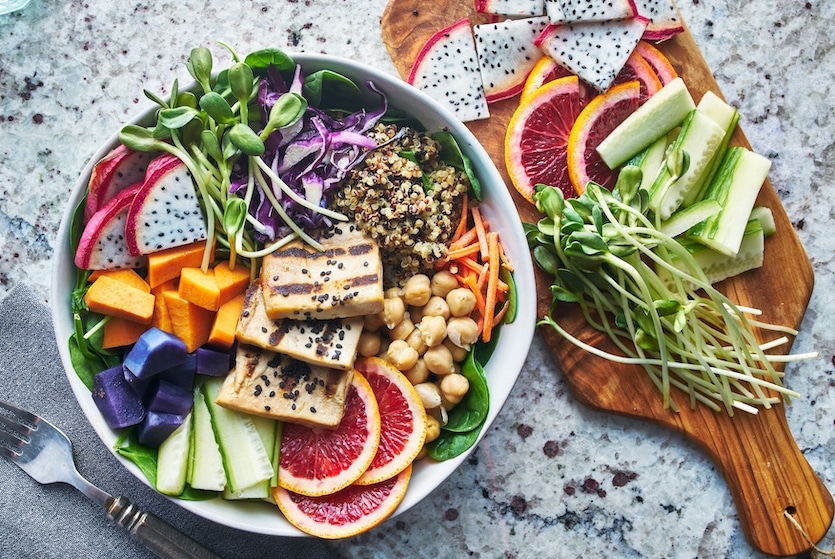 At this point, you've probably heard of the vegan diet. And there's a good chance you know a handful of vegans. Veganism and other plant-based diets are becoming more and more mainstream with every passing year. According to one survey, only 1% of consumers in the U.S. identified as vegan in 2014. By 2017, that number had grown to 6%.This surge in popularity means that the vegan diet is more accessible than ever. While plant-based alternatives to meat and animal products were once few and far between, shoppers now enjoy a wide variety of plant-based substitutes at most stores. The same is true in many restaurants.
This also means that more people than ever are considering adopting a vegan diet—that's where this article comes in. Whether you're considering going vegan or simply curious about plant-based diets, read on for a deep dive on the different types of veganism, the health benefits of a vegan diet, and everything in between.
What is a Vegan Diet?
People who follow a vegan diet, also known as a plant-based diet, avoid consuming animal products. Like vegetarians, this means that vegans do not eat any form of meat. Additionally, however, vegans also avoid dairy, eggs, in many cases honey, and all other animal-derived food ingredients.
Veganism can extend beyond foods, too. Some vegans try to avoid any products—whether it is food, clothing, or toiletries—that involve animals in their production. Leather shoes and clothes are a no-go, as are products that rely on animal testing (these might include shampoos, makeup, and so on).
These lifestyle decisions are not always easy or convenient. So why do people choose veganism? Naturally, the answer changes from person to person. Some of the most frequently cited reasons for going vegan include animal rights, environmental concerns, and, of course, health.
The term "vegan diet" is a broad category that can be further divided into subcategories. That is, not all vegans are the same type of vegan. If that statement feels a little confusing, don't worry—the list below breaks down some of the most common types of vegan diets:
Raw vegan diet: As the name suggests, raw vegans avoid eating foods that have been cooked. Or, more specifically, foods that have been cooked at a temperature above 118°F (48°C). This diet relies on raw fruits, vegetables, nuts, seeds, and other minimally processed plant-based foods.
Whole foods vegan diet: Again, this one is pretty self-explanatory. Followers of a whole foods vegan diet build their meals around minimally processed plant-based foods. This includes fresh fruits and vegetables, whole grains, nuts, seeds, and more. Unlike a raw vegan diet, however, this diet has no guidelines surrounding cooked food.
Raw till four vegan diet: This diet is a variation on the raw vegan diet in which you eat only raw plant-based foods until 4pm each day. After that, you are free to eat cooked and processed plant-based foods as well.
80/10/10 vegan diet: The 80/10/10 diet is another variation on the raw vegan diet. In this case, the goal is to eliminate fat-rich plant-based foods, such as avocados and nuts, from your diet. Adherents to this diet strive to get 80% of their calories from carbohydrates (usually fruit), 10% of their calories from fat, and 10% of their calories from protein each day.
Health Benefits of a Vegan Diet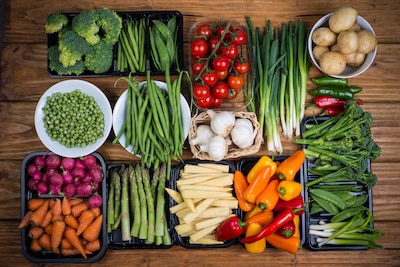 As mentioned above, health is one of the main reasons people go vegan. But are plant-based diets actually healthier than other options? The short answer is that it depends. Let's get into the long answer.
Plant-based diets tend to have a few clear health benefits. Followers of a vegan diet may find it easier to reach and maintain a healthy weight. Some studies have also linked vegan diets to lower rates of heart disease.
There are a variety of reasons behind these health benefits, but many can be attributed to the same root cause. In general, nutritionists suggest eating a wide variety of fresh fruits and vegetables, whole grains, and other whole foods. In other words, a well-balanced diet. Plant-based diets often naturally fall into line with this advice, as the main foods consumed are, well, plant-based.
That being said, following a plant-based diet does not guarantee better health—but more on that in the next section.
The Common Nutritional Challenges of a Vegan Diet
As mentioned above, going vegan isn't a one-way ticket to better health. Just like any well-rounded diet, a healthy plant-based diet requires planning and intentionality. For vegans, this might mean paying extra attention to the nutrients listed below:
Protein: If you're used to getting your protein from fish, meat, or eggs, don't worry—there are plenty of plant-based protein sources as well. Some of the most common protein sources for vegans include soybeans (and tofu), lentils, beans, nuts, and seeds.
Vitamin B12: This vitamin is an essential nutrient that is most commonly found in fish, meat, and dairy—none of which are vegan. If you're following a vegan diet, it is crucial that you eat foods that are fortified with vitamin B12. These might include fortified plant milks, cereals, or even nutritional yeast. Additionally, you may need to take a vitamin B12 supplement to ensure you are getting the proper amount each day.
Calcium: When most people hear calcium, they think of milk. Vegans have to think outside the box (or, in this case, carton). Common plant-based calcium sources include tofu and leafy greens. Some plant milks are also fortified with calcium.
Zinc: This micronutrient is another essential mineral that is most commonly found in meat (and shellfish). Plant-based sources include nuts, beans, and whole grains, but may also consider taking a zinc supplement.
Following a Vegan Diet: 3 Common Myths and Misconceptions About Veganism
Although veganism is more mainstream than ever, there are still a number of common myths surrounding vegan diets—most of which simply aren't true. So let's take a look at three of the most common myths and misconceptions about veganism and break them down:
Vegans are malnourished: One of the most commonly touted criticisms of vegan diets is that veganism isn't nutritionally viable. That is, many people think that it is impossible to get the proper nutrients while maintaining a plant-based diet. As outlined in the section above, this isn't actually true.
While some nutrients, such as vitamin B12, are less readily available in plant-based foods, there are a number of ways vegans can introduce that nutrient into their diet. By and large, vegans tend to eat a very nutrient-rich diet, as fresh fruits, vegetables, and whole grains are jam-packed with essential nutrients.
Being vegan is inherently healthy: On the flipside, some people believe that going vegan will automatically make them healthier. While vegans often do enjoy many of the health benefits listed above, maintaining a well-balanced diet is still essential. There are plenty of vegan foods that are highly processed and not very nutritious. In order to see the health benefits of being vegan, you will still need to be intentional about your meal planning.
Being vegan limits you: Veganism is by definition restrictive. By choosing to follow a vegan diet or lifestyle, you are narrowing the foods and products available to you. But this doesn't have to limit you! Rather than focusing on what you can't eat, focus on all of the new foods and recipes out there to try. Sometimes a few restrictions can open the door to creativity.
https://askthescientists.com/wp-content/uploads/2023/08/AdobeStock_192185509-e1692125367793.jpeg
559
835
staff
staff
2023-08-16 10:00:44
2023-10-17 10:18:54
The Vegan Diet for Beginners