Follow These Health Tips for All Ages to Build the Right Habits Now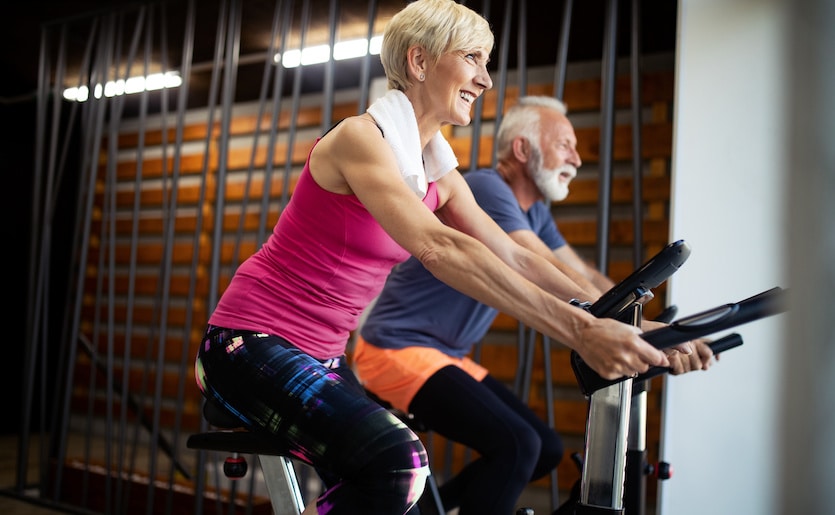 Most people know the basics of staying healthy—at least in theory. Eat nutritious foods. Exercise regularly. Sleep enough. But putting these healthy habits into practice is where there's room for improvement. This is natural. Nobody is perfect, after all, and change can be difficult, especially after years of forming certain lifestyle habits.
Here's the good news: supporting health at any age is possible no matter how long you've been putting off healthy lifestyle changes. It's never too late to start living your best life.
Many people—especially those in middle age and later—think they've passed a point of no return on their health journey. That is, they think it is too late to see the health benefits of certain lifestyle changes. But studies show you can enjoy the benefits of healthy lifestyle changes at any age.
In other words, it's never too late to start caring about your health and learning how to take care of your body. The first step is learning about the supporting science, and then applying health tips for all ages to support physical and mental health throughout your life.
Neuroplasticity: Habits, Change, and the Aging Brain
Humans are creatures of habit. Daily life is built around routines—meals, work, sleep, and hobbies. And, as you're probably aware, these habits can be hard to break or change.
There's a neurological reason for this. As you repeat certain behaviors or activities, the neurons in your brain rewire and adjust the way they fire to code that behavior as a habit. So the behavior literally becomes wired into your brain.
Naturally, these wired habits are difficult to break—difficult, not impossible. Your ability to change habits has, in part, to do with neuroplasticity, which is simply your brain's ability to change.
From infancy and childhood (even into early adulthood), the brain is incredibly plastic. This means it changes and develops easily. As you age, this process slows so much that scientists used to think neuroplasticity disappeared completely around age 25. In other words, they thought the brain's wiring was fully set by your mid-twenties.
Recent studies, however, have shown this isn't the case. Your brain can form new connections, create new neurons, and change its structure at any age. The process might look different as you age, but it is still possible.
So yes, you can teach an old dog new tricks. And, more importantly, you can form new habits to support health at any age.
Out With the Bad: The Benefits of Dropping Unhealthy Habits Today
When people confront lifelong habits—whether it's smoking, drinking too much, or eating too many processed food—they often ask the same question: how much of a difference could it really make?
The answer is simple. Dropping unhealthy habits as soon as possible can have a huge positive impact on your health.
Take smoking for instance. For a pack-a-day smoker of 20 years, each additional day spent smoking might seem like drops in the river. But the health benefits of quitting smoking, such as decreased risk of heart disease, can be seen after just one day.
Remember, if your goal is to replace unhealthy habits in your lifestyle, you have to start somewhere. Each day that you stick to your goals, you work towards rewiring your brain. So even if you're not seeing immediate health benefits, you are working to create new neural pathways that will help you maintain a healthier lifestyle going forward.
Making the Change: How to Take Care of Your Body as You Age
The habits you set in early adulthood are factors that will shape your health profile later in life. Depending on your lifestyle, your risk for serious ailments will change. But those statistics aren't set in stone.
Adults in their sixties, seventies, and beyond can still see the benefits of improving their diet, physical fitness, and mental health. Together, these positive lifestyle changes can set the stage for a happy and healthy life that extends well into old age. Whether you're a teen, early adult, or pushing past middle age, look at the following tips for supporting health at any age:
Incorporate exercise into your routine: Whether it's a daily walk, weight training, or high-intensity cardio, it's important to stay active no matter your age. In young adults, high levels of physical activity improve cardiovascular health, respiratory health, and can help you maintain a high level of fitness later in life.
If you're middle aged or older, physical activity is just as important, if not more so. Increased levels of physical activity can help support you overall cardiovascular health, and more. And for older adults, physical activity helps keep muscles strong, helping maintain mobility and ensuring you can continue performing day-to-day tasks.
Eat nutritious food: Your diet affects nearly every aspect of your life. Food is fuel, and you want to make sure you're giving the body the nutrients it needs to run effectively throughout life. During childhood, adolescence, and early adulthood, your diet provides your body with the fuel it needs to grow and develop.
As you age, your diet can help you maintain a healthy weight—which looks a little different for everyone—and can help support total body health throughout your life.
Additionally, healthy eating can just make you feel better. It's hard to quantify, but people who eat nutritious foods often report feeling more satisfied and energized throughout the day. And this is a benefit you can take advantage of at all ages.
Keep your brain engaged: Scenic walks, reading, or learning a new skill are a few activities that can help keep your brain engaged throughout life. The brain loves a challenge—so why not give it one?
By striving to learn throughout life, you can keep your brain active. This promotes neuroplasticity and your brain's ability to continue to learn and grow into old age. Staying mentally engaged and challenged can also help optimize mental health throughout life.
Stay Positive with a Growth Mindset to Stay Healthy as Your Age
No matter your age, caring about your health involves adopting a growth mindset. It means believing that your health and lifestyle can change for the better. It'll just take time and effort.
Remember, these changes don't have to occur all at once. Start small and work towards your larger goals. It's natural to slip up, but it's up to you how you respond to your mistakes. So what are you waiting for? Take the first step towards health—no matter how small.
https://askthescientists.com/wp-content/uploads/2022/05/AdobeStock_276487323.jpeg
515
835
staff
staff
2022-05-26 12:00:37
2022-06-21 13:52:07
Follow These Health Tips for All Ages to Build the Right Habits Now