Achieve Your Goals with This Weight Management Checklist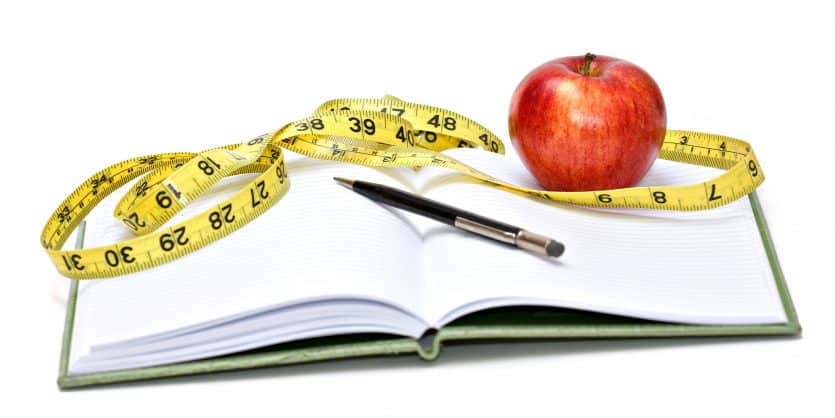 It's time to lighten your load—literally. Carrying around extra weight isn't good for your body. You know that. But staying at a healthy weight is easier said than done. This weight management checklist helps you focus your energy on impactful activities. Start checking off items and building momentum to achieve weight management goals.
Maintaining a healthy weight is all about the balance of calories in and calories out. Use more than you take in and you lose weight. Do the opposite, and you gain. If they're balanced, that's how you maintain.
This means a focus on diet and exercise together. But this weight management checklist goes deeper and provides simple tips to get you started.
It's time to start checking off some boxes.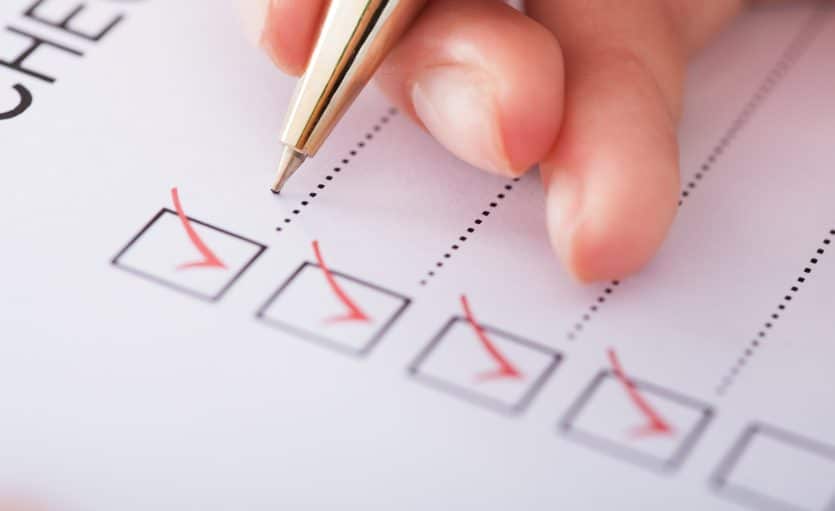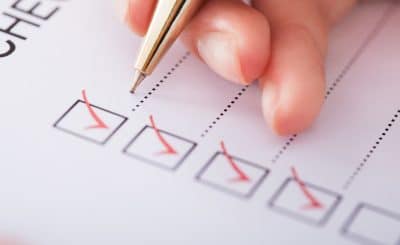 Item 1: Set a Goal for a Healthy Weight
Determining your target weight isn't a guessing game. There are many factors that can help you determine the right number for you.
The most common way to figure out a healthy weight is using the Body Mass Index (BMI). This is a ratio of your height to weight. This is going to involve some math, but you can do it (or use a BMI calculator). You can find your BMI with this equation:
Weight in Kilograms(kg)/(Height in meters)2
Here's an example: Dave is 84 kg (or about 185 pounds) and 1.8288 meters (six feet tall). His BMI would be 25.1, which is just barely in the overweight range. (Here's the math: 1.8288 squared is 3.345, and 84 divided by 3.345 is 25.1.)
The healthy range for BMI is 18.5 to 24.9. That's what you want to aim for. There are charts available that will give you the healthy weight range for your height.
But BMI isn't everything. It's a very simple calculation that doesn't consider different circumstances.
You can also use measurements like body fat percent or determining belly circumference (around the belly button) to help determine your ideal weight. Body fat percentages should be less than 31% for women and 25% for men. Belly circumferences should be less than 40 inches (102 cm) for men and 35 inches (88 cm) for women.
If this is all a little bit overwhelming (and math can do that) you can always talk to your doctor, dietician, or nutritionist. They're great resources.
Item 2: Assess Your Calorie Needs
Calories aren't scary or mysterious. They're simply the units used to measure energy in your food. And you need calories to run all the processes of your body.
Most of what you see about calories is based on an average diet of 2,000 calories per day for women and 2,500 a day for men. That's a good starting place. But there are many factors to consider when assessing your daily calorie needs.
Weight and activity are probably the biggest considerations. A larger person needs more calories. That's because you need more energy to move around more weight. And if you're on the go a lot or you're an athlete, you need more fuel to support that extra activity.
Age and sex are two other factors. Calorie needs decrease with age. And men need about 500 more calories per day (on average) than women. That's mostly due to their overall larger size and the fact that they have a higher basal metabolic rate or BMR.
BMR is what your body burns at rest. About two-thirds of your calories are used this way—just to keep your body running smoothly. Those are like freebies. The rest of your calories are burned because of activities you do during the day.
There are calculators that will tell you your BMR and how many calories you need to maintain your weight. But for simplicity's sake, if you're a man, it should be around 2,500 calories. If you're a woman, that number is around 2,000.
Use those as the starting point for maintaining a healthy weight. You can adjust your needs if you're more active, larger, or have other health considerations.
Item 3: Design a Diet to Achieve Your Weight Management Goals
You know how much fuel (calories) your body needs. But counting calories is just a part of planning your perfect weight-management diet.
The foods you choose to acquire those calories makes a big difference. Think about how 300 calories of sugary treats compare to 300 calories of almonds and fruit. One will fill you up with fiber, sustained energy, and micronutrients. The sugary snack is empty energy that can lead to a crash.
Like any healthy diet, you should target a balance of nutrient-rich protein, carbohydrates, and healthy fats. Focus on fruits, vegetables, whole grains, lean protein, plant-based fats, and foods with fiber.
Protein (especially in the morning) and fiber are especially important. You only absorb half the available calories in fiber. And it helps you feel full for longer. Also, don't forget to drink plenty of water.
Any diet should give you a foundation of vitamins, minerals, and beneficial plant compounds. It's the starting point for getting your body all the nutrients it needs.
Item 4: Examine Your Exercise Expectations
The best exercise plan is one you can follow. That's a popular saying, but it's true (the same is true for your diet, too). You don't want to make these common mistakes:
Starting at a higher level than necessary
Forcing yourself into activities you hate
Expecting results right away
Being honest with yourself about your fitness level will help you avoid jumping into something too hard. You really shouldn't run before you walk. So, assess where you are and work—in steps, since health won't happen all at once—to get where you want to go.
Taking an inventory of healthy activities you enjoy is essential to developing an effective exercise routine. You shouldn't focus on running if you find it boring. Maybe playing a sport works better for you. Figuring out what you like to do will help you look forward to exercise instead of dreading it.
Also, properly set expectations. One trip to the gym isn't going to reshape your body or improve your fitness. It's a process. You have to burn 3,500 calories to eliminate a pound of fat. A good goal is using 500 more calories than you take in each day. That can lead to losing a pound a week.
And remember, exercise is only part of the equation. You can't exercise your way out of bad eating habits. So, you need both as part of your weight-management plan.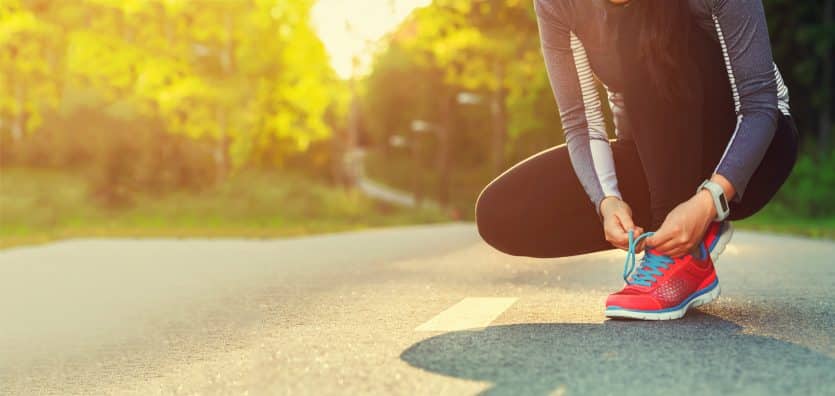 Item 5: Plan Your Exercise Routine
You know what you like. You have properly set expectations. Now it's time to plan.
Take the activities you like and figure out how many calories you'll burn. Then figure out how many minutes are required to hit your goal for the day. You can find these estimates online or in a fitness tracker app.
Then carve out time in your daily schedule. Make sure to vary the activities so you don't get bored or fatigue one part of your body too much. Ideally, you should get at least 150 minutes of exercise a week. The easiest way is to split that up into five, 30-minute sessions.
Item 6: Get Going
This is the simplest one on paper, but the hardest in practice. It's also the most important part of any weight-management plan.
Doing it.
Understanding your calorie needs is great. Planning the perfect diet and exercise routine is important. Crossing off items on the weight management checklist builds momentum. But you'll need action and perseverance to achieve your weight management goals.
So, put your plans into motion. Get out and move. And remember progress and consistency—not perfection—is what you want. You'll have successes and snags, but focus on continuing to move forward, in the direction of your weight-management goals.
A simple way to put it is to be good—eat right and incorporate exercise—the majority of the days of the week.
https://askthescientists.com/wp-content/uploads/2018/05/Weight-AdobeStock_11450209-e1525297852174.jpeg
1552
3104
David Baker
David Baker
2018-06-04 10:00:31
2022-07-24 22:53:01
Achieve Your Goals with This Weight Management Checklist