5 Tips for an Effective, Simple Skincare Routine on the Go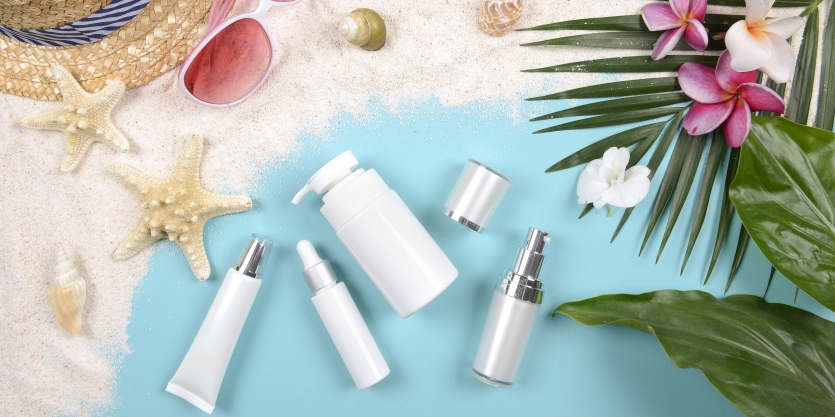 Life is busy enough. Add a trip—even if it's a vacation you need—or the scramble to get kids ready for back-to-school, and the busy-ness of life leaves you short on time. But that doesn't mean you should skimp on one of the most important habits for your well-being: proper skincare.
You always hear about the many, many steps of a skincare routine—like it's a race to add more complexity. That doesn't always fit with your busy life. But believe it or not, there is such a thing as a simple skincare routine.
If you find yourself too hurried to make skincare a priority, try implementing these five tips to make a routine that can keep up with you.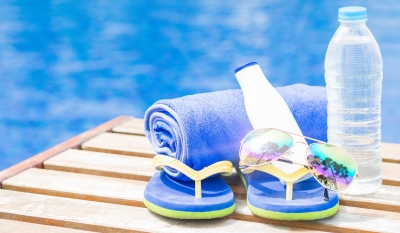 1. Care for Your Skin from the Inside
The top skincare tip for busy people is to feed your glow from the inside. The better care you take of your hydration and nutrition, the fewer products you'll need to use to make up for it later.
The golden rule for good-looking skin—especially if you're traveling or spending a lot of time in the sun, heat, or on the go—is to keep yourself and your skin as hydrated as possible. Yes, this means drinking about 64 ounces (about two liters) of water a day.
But also avoid foods and drinks that dehydrate you or cause you to retain fluids: alcohol, refined carbohydrates, and salt. Beware: those cocktails from last night could have you waking up to dark circles and puffiness, and the salty take-out you had for dinner can leave you retaining fluids.
The easiest way to stay hydrated is to take a reusable water bottle with you wherever you go. Look for one that holds at least 32 ounces (or about a liter), or you'll be looking for places to fill up multiple times a day. BPA-free plastic bottles are easy to find and durable. Aluminum bottles are lightweight and tend to keep your water cooler than plastic. Either is a good option.
If you're traveling by air, remember to empty out any water before trying to go through airport security. Otherwise, you may end up having to leave your bottle behind.
For good skin nutrition, cut down on sugars and other simple carbohydrates. And add more lean protein and produce. Omega 3 fatty acids are also essential to maintaining moisture in the skin. So, toss some flaxseeds or walnuts on your lunchtime salad to get a quick boost.*
If you're traveling, pay close attention to your in-flight or road-trip nutrition, particularly the sugar and sodium levels. Whole fruit and unsalted nuts are better options than trail mix, chips, or airline peanuts. Ask the flight attendant for herbal tea or water instead of soda pop, coffee, or alcohol. That's because it's easier for your body to get dehydrated at 30,000 feet (10,000 meters).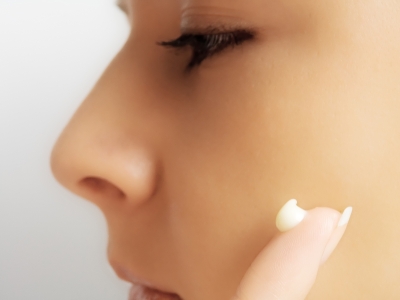 2. Keep it Simple
Be honest with yourself. Even if you're curious about the benefits of a complex, double-digit-step skincare routine, are you committed enough to implement it on a daily basis? If the answer is no, don't set yourself up for failure. You can still get fantastic results from a simplified skincare routine. The trick is to be consistent with whatever routine you choose.
First off, clean out your shower, cabinets, and bathroom drawers. Any products that are expired, have started to separate (that's a sign that the product has spoiled), or that you haven't used in the past few months have to go.
Now, it's time for your simplified skincare routine to start your day (Those in bold are what a dermatologist would view as essential):
Wash with a gentle cleanser.
Quickly pat a light antioxidant serum into your skin to keep the look of aging at bay. Allow your serum to absorb into your skin.
If you choose to add an eye cream, now would be the time to lightly tap it into the outer eye area with your ring finger.
Apply a moisturizer.
Top with a sunscreen that's a broad-spectrum SPF 30 or higher.
And you're done with your morning skincare routine in five minutes—even if you add in the two steps not seen by dermatologists as essential!
At night, remove any and all makeup before cleansing. Follow with a more powerful skincare routine to take advantage of your body's recovery mode during sleep. Also, add a thicker moisturizer or night cream. If you need extra moisture while you sleep, place a humidifier near your bed. To minimize puffiness, elevate your head by sleeping on two pillows.
And remember—while the skin on your face is delicate and needs the most attention, the skin on the rest of your body also needs some tender care. After showering in the morning, use a quick-absorbing lotion and then layer on your preferred sunscreen. Do not skip this step, even if the weather is bad or you're in a hurry. Preventing sun damage is much easier than trying to correct it after the fact.
3. Choose Your Products Wisely
Your skincare routine should multitask as much as you do. Look for products that do double or even triple duty to save time and space in your bathroom. Here are some common product combinations to try:
If you have oily or combination skin and would prefer to skip the moisturizer in the morning, use a creamy face wash with hydrating main ingredients.
Several cleansers double as exfoliators because they contain ingredients to gently polish the surface of your skin, helping to keep your glow going strong.
In a pinch, you can skip the serum if your moisturizer contains excellent anti-aging cosmetic ingredients to help combat the look of aging.
Lots of sunscreens double as moisturizers these days. As long as it has high enough broad spectrum protection, there's no need to use them in separate steps. Or, if you have dry and/or aging skin and prefer face oils to the serum and moisturizer, snag one with sun protection built in.
If you'd like sheer-to-light foundation coverage, look for a tinted sunscreen. It'll tackle three steps in one: moisturizer, sunscreen, and makeup.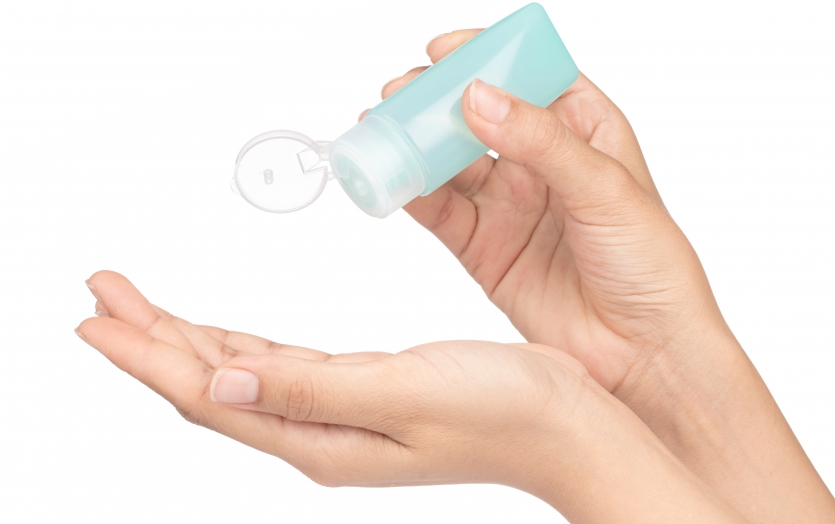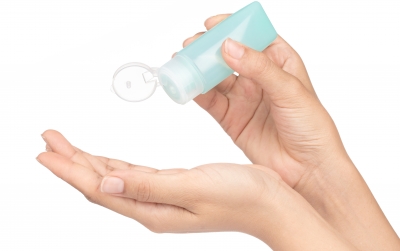 4. Let Skincare be Your Travel Companion
If you're traveling or constantly on the go, let your skincare goodies tag along with you. This is where the travel aisle of your favorite store can be your best friend. Whether you take a carry-on through airport security or not, load up on travel-size bottles or containers (three ounces or fewer). Then you can fill them up with your regular skincare products that are too big for your carry-on.
Not surprisingly, your most important sidekick is sunscreen. It needs to be close since you should reapply every few hours—especially if you get sweaty or spend time in the water. If you have the space, bring a separate SPF for your face and body. Grab a travel-sized spray can or a roll-on stick of sunscreen for your body, and use a mineral powder for your face to leave makeup undisturbed. It's especially important to sunscreen up prior to a flight, as you're closer to the sun's skin-damaging rays.
If you're going to spend several hours on a flight or in the car, load up on all things to help you refresh and rehydrate. For a quick shower alternative on a really long trip, bring cleansing cloths to wipe down your face, arms, and hands. Facial oil and hand cream or lotion should be applied—and reapplied, depending on the length of the flight—to your face and hands. (They also can help tame frizzy tresses or flyaways.) Facial mists are also good options. And on those overnight or international flights, take the opportunity to pamper your skin by using a no-rinse, hydrating sheet mask. Cleanse your face, apply the sheet mask, relax, and hydrate for 20-30 minutes.
Other items that make great travel companions: hand sanitizer, lip balm (bonus points for using one with SPF), and blotting sheets to combat extra shine.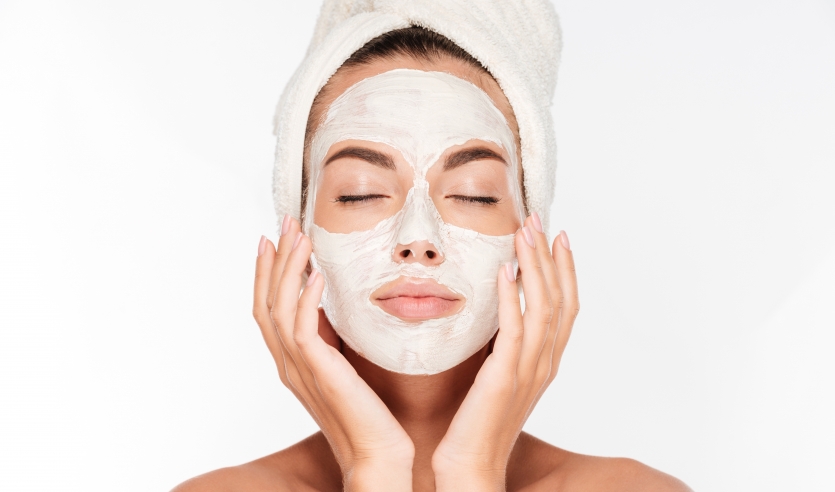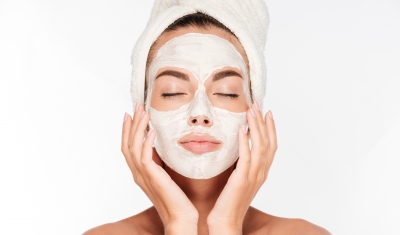 5. One Day a Week, Don't be in a Hurry
A skincare routine may seem like a chore most days, but try to let it feel like a treat at least one day a week. Depending on your skin type and your skin's needs, try some or all of these luxurious treatments this weekend.
Exfoliate. Regardless of your skin type, you need to slough off dead skin cells once or twice a week to help keep your pores clear. Choose a product with ingredients that gently polish your skin, like a sugar scrub. If you go for a different exfoliant, scan the label for alpha hydroxy, beta hydroxy, or hyaluronic acids. Fruit enzymes like papaya and pineapple work if you have sensitive skin. You can also use an exfoliating mask, a peel, or exfoliating pads. Just remember that a little goes a long way—be gentle!
Give yourself a facial massage. Get circulation flowing to your facial tissue and release wrinkle-causing facial tension by giving your face a good rub. After applying facial oil or moisturizer, slowly massage it into your face, neck, and décollé. You can also use a jade roller to help the product penetrate deeper and increase circulation.
Get your mask on. Give your skin some extra love by using a mask at least once a week. There are myriad options for masking, so choose your treatment by assessing your skin's needs. Looking a little dull? Try a brightening sheet mask. Minor blemishes popping up? Try a thicker charcoal or clay mask. If you're feeling dry, pick a hydrating mask you can wear overnight.
Don't forget your eyes. Reduce puffiness, dark circles, and the appearance of fine lines by giving your eyes special attention on the weekend. Undereye silicone masks are effective options, but can be a bit pricey. For a do-it-yourself alternative, place steeped chamomile tea bags or cool cucumber slices over your eyes for 10-15 minutes.
Whatever your schedule or lifestyle, you can (and should!) make time to commit to a daily skincare routine. It's an important healthy habit. Your skin is your body's largest organ, so taking care of it makes a big impact on your overall well-being. Keep a simple routine using multi-purpose products you'll be on your way in no time flat. Just don't forget the sunscreen!
*These statements have not been evaluated by the Food & Drug Administration. This product is not intended to diagnose, treat, cure, or prevent any disease.
https://askthescientists.com/wp-content/uploads/2018/08/Travel-skincare-AdobeStock_185114706.jpeg
3679
7360
staff
staff
2018-08-27 10:00:17
2022-07-24 22:43:36
5 Tips for an Effective, Simple Skincare Routine on the Go