Tips for Healthy Travel: 50 Ways to Make Stress-Free Memories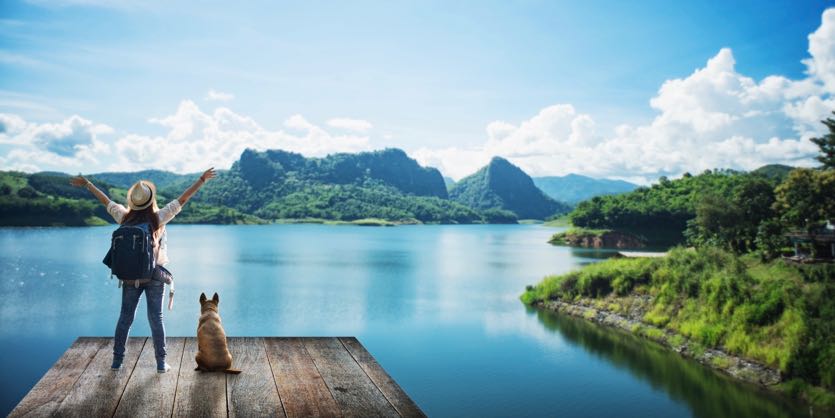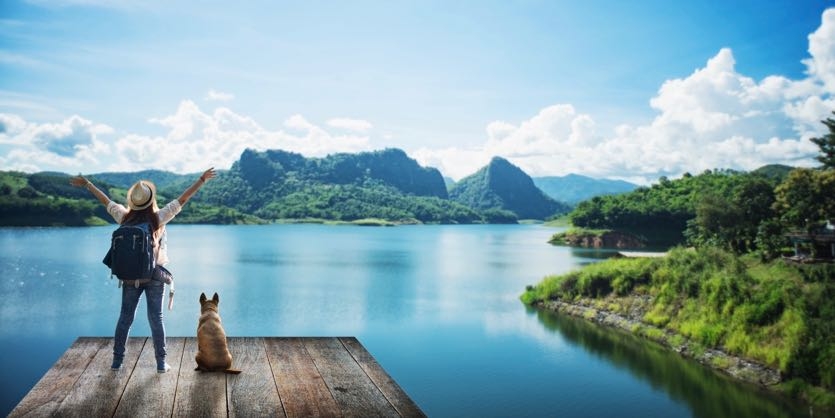 Traveling is a great way to break monotony and add some excitement to life. That's why an anonymous quote says, "We travel not to escape life, but for life not to escape us."
It provides an opportunity to see new places, experience new things, meet new people, and disconnect from your normal routine. Research suggests that it's highly beneficial for your physical, mental, and emotional health.
Traveling can be an exhilarating and memorable experience that invigorates the soul. That boost is one reason why so many people love to travel. Whether it's for business or pleasure, you can make traveling an adventure worth remembering.
Travel can be both beneficial and detrimental to health. The anxiety of planning, preparing, and trying to remain healthy and safe are some of the reasons that can make it stressful.
Don't sweat it! Here are 50 expert tips for healthy travel. They can help you stay healthy, safe, and organized while embarking on your journey. That way you return home with the best souvenir of all—great memories of your amazing adventure.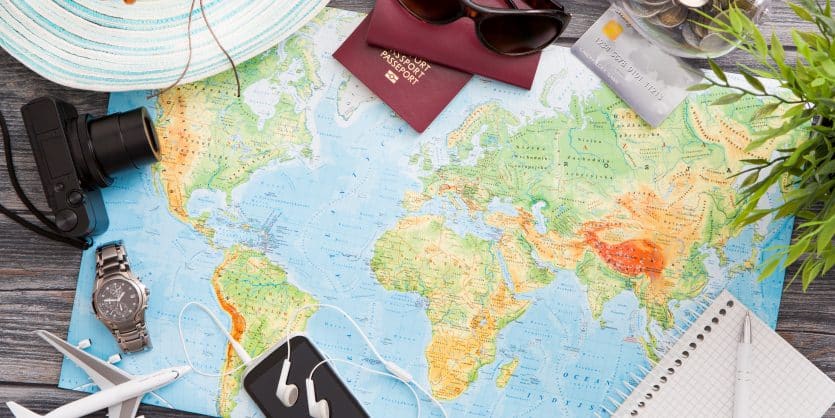 Prepare, Prepare, Prepare
No matter the reason for your travel, there are important planning basics to keep in mind. And each one will save you some stress or anxiety along the way:
Research your destination and accommodations in advance. Know before you go!
Look for lodging that has a kitchen so that you can cook some of your own meals.
Check the weather forecast for your destination. Being savvy about the weather will help you pack appropriately.
Learn at least a few key phrases and words in the local language.
Know the activities you will be doing so you can pack the right clothes.
Find out if the country you are traveling to requires a visa or any vaccinations.
Make sure you have all your travel documents in order (passport, visa, medical records, if necessary, etc.)
Photocopy of all your important travel documents and put them in different bags. Carry the originals on you until you get to your destination. When not traveling, make sure original travel documents are secure and then carry the photocopies.
Keep a separate photo of your passport uploaded online, so it's available even if belongings go missing.
Buy locks to secure your bags when they're out of your possession.
Convert at least some money to local currency before you leave. Your local bank or credit union often gives the best rates.
Check which of your credit cards has the lowest foreign transaction fees (preferably zero) and foreign currency exchange rates. Use that one when you travel abroad.
Think about your cell phone and what you are going to do while traveling. Do you need International data, or a new SIM card? If neither, keep your phone on airplane mode to avoid extra charges.
Getting Ready for the Big Travel Day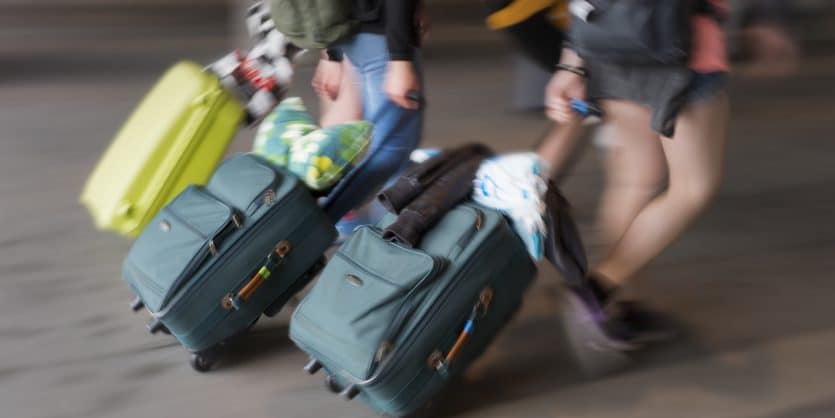 Pack an extra power source for your portable electronics. Batteries can drain quickly when using them for navigation, photos, etc.
Make sure you have adaptors for the electrical plugs for all the countries you will be visiting.
Take all the electronic cables or chargers you may need.
Noise cancelling headphones, earplugs, and a sleep mask can make traveling on a plane or train more relaxing.
Keep all essential items that you may need during travel with you—not in your checked luggage. This includes items like: sunglasses, supplements, tissues, alcohol swabs, sanitizing wipes or towelettes, and saline nasal spray.
Take extra prescription medications with you just in case you get delayed or stranded.
Pack a travel first aid kit with bandages, saline solution, antibiotic ointment, hydrocortisone cream, diphenhydramine (Benadryl), analgesics (Tylenol, Ibuprofen), and antidiarrheal medicine.
Don't forget the sunscreen. Pack enough to last your entire trip.
Pest-proof with plastic. When packing, put clothes into giant sealable bags to pest-proof your belongings. There's no reason to take a little critter home in your luggage.
Pack as lightly as possible. Some countries and forms of transportation are not friendly to large bags—think cobblestone roads, trains, and metros. Backpacks are best.
Pack appropriate footwear for fitness and walking.
Bring healthy portable snacks. It may be difficult to find healthy snacks when visiting unfamiliar places.
Pack probiotics to help maintain a healthy gastrointestinal (GI) tract. Eating locally can cause your GI system to rebel, especially if you are eating unfamiliar foods. Be prepared.
When flying take a change of clothes in your carry-on bag just in case your checked luggage doesn't arrive with you.
If backpacking is your trip of choice, pack dark clothing. The clothes will look cleaner, longer. Take a jacket, regardless of where you're going. Even in the summer, planes can get cold. And a jacket is useful if you have a layover in a cold location.
Cash is king around the world. Make sure to take some to cover emergencies. If you lose your wallet, your credit cards stop working, or the ATM runs out of money, you'll be glad you did.
Stash your cash in a few different places, like inside of socks, under shoe inserts, in a toiletry bag, in travel security belt with a hidden wallet, in hidden pockets, or even sewn behind a patch in your bag. Knowing that you have some extra money stashed away will give you peace of mind.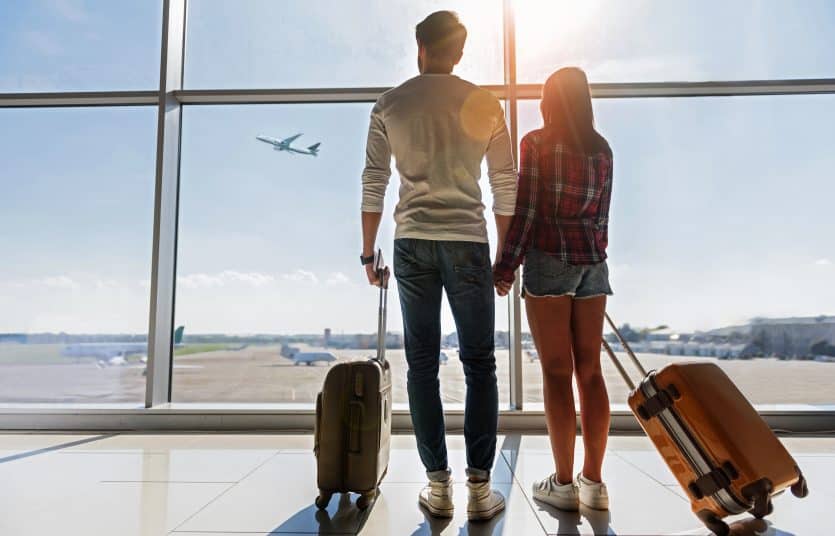 Time to Go
Take a probiotic before leaving home to fortify your gut.
During the flight, drink lots of water, and avoid overconsuming drinks that can promote dehydration—like alcohol and caffeinated beverages. Sitting in airports, flying for hours, changing time zones, and even the weather can leave you dehydrated.
While on the plane, take short walks and stretch/move your legs and feet while seated. This helps promote healthy blood circulation.
Don't touch your face and use saline nasal spray to keep your nasal passages moist.
Turn on the overhead vent above your seat and direct it slightly in front of your face to help keep airborne germs away.
Take antibacterial wipes on the plane, train, boat, bus, or car. Use them to clean your hands, tray tables, and armrests. They're often dirty and teeming with germs.
Be patient. Travel can be stressful, so don't sweat the small stuff you can't control. Life is too short to be angry and annoyed.
Get enough sleep. Traveling can often be harsh on your body as you zip across time zones, carrying luggage to and from destinations. So, make sure you get plenty of rest.
Even if your room looks clean, keep your suitcase off the floor, and preferably stored on a hard luggage rack.
Avoid draping your clothes over the furniture or placing them inside the dresser drawers to avoid any unseen little critters that could be present.
Read reviews and ask a local for advice on places to see and eat. Cab drivers, hotel attendants, and shuttle-bus drivers often know the best places to see and eat.
Don't post everything on social media—make some memories that are just stories.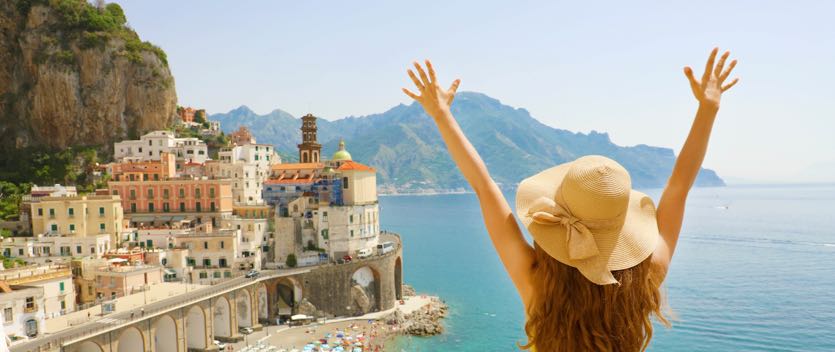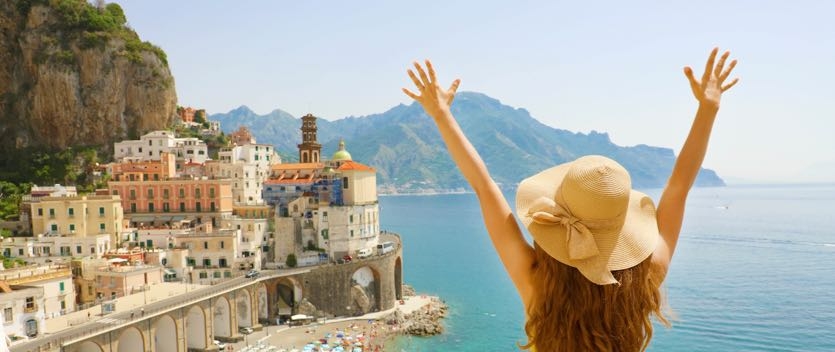 You Know the Tips for Healthy Travel, Now Have Some Fun!
There's a lot of things you can do to travel safe and healthy. You don't have to do everything—that might actually add to the stress.
But remember to:
Get enough sleep.
Eat breakfast daily.
Take your vitamins daily (because sometimes you just don't eat healthy meals when traveling).
Wear sunscreen.
Eat fruits and veggies.
Pace yourself. You can't see or do it all in one day.
Keep your mobile phone clean, and wash your wands frequently.
Be aware of your surroundings.
https://askthescientists.com/wp-content/uploads/2018/07/Outdoors-AdobeStock_203673414.jpg
418
835
Toni McKinnon
Toni McKinnon
2018-07-02 10:00:29
2022-07-24 22:49:37
Tips for Healthy Travel: 50 Ways to Make Stress-Free Memories