Healthy Aging: 7 Behaviors to Support Brain Health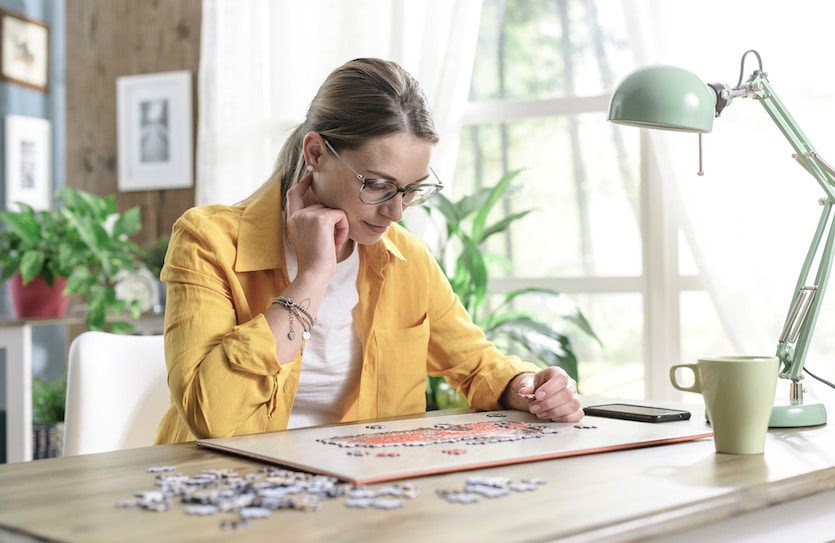 Aging is inevitable. Worrying about your brain health as the years start adding up doesn't have to be.
It is true that getting older impacts your brain. Aging has some minor impact on memory as your brain and body change. But you have the power to protect your brain health as the years add up. The solution: developing healthy behaviors now to keep yourself mentally sharp and cementing good brain habits for the future.
Brain Health Behavior 1: Target the Right Food for Brain Health
When people hear "healthy nutrition," fats are the last macronutrient many might think about. However, the right kind of fats are critical for your brain health! In fact, more than half your brain is made up of fat.
Healthy fats (those coming from plants and certain fish) are vital for the structure and function of your brain and its cells. The best source of these essential fats are omega-3 fatty acids found in foods like nuts, seeds, and fatty, oily fish—like salmon, mackerel, anchovies, and sardines.
In addition to the right fats, a brain-healthy diet also includes plenty green leafy vegetables (like spinach), veggies like broccoli, and berries.
A simple trick for supporting brain health is swapping foods like bread or mashed potatoes for healthier alternatives. A side of green vegetables or mashed cauliflower are good options. Also switch out your snacks by reaching for nuts and seeds instead of chips and cookies. Another tip when meal planning is to aim for two or three servings of fish for healthy proteins and the fats you read about above.
Brain Health Behavior 2: Exercise!
Your brain uses up more energy than any other organ in the body. To get that energy in the right place, your heart supplies your brain with nutrients and oxygen through lots of blood.
Protecting your heart and blood vessels is one key way you can make sure your brain has the energy it needs. And exercise is one healthy behavior proven to maintain a healthy heart and blood vessels. When you exercise, your body pumps more blood throughout the body, including to the brain.
When you exercise, vary the type of physical activity and your routine from day to day. A combination of different types of exercises can help keep you interested and mentally stimulated.
For example, you could do aerobic exercises like jump rope, swimming, or walking one day. Then resistance training exercises—like weightlifting—are tackled another day. You can even switch it up within the same routine. Whatever gets your body moving and keeps your mind engaged!
Brain Health Behavior 3: Seek Quality Sleep
One of the best ways to support your brain health as you age is tucking in for six to eight hours of uninterrupted quality sleep every night. This healthy slumber gives your brain enough time to process the experiences of your day and perform natural repair functions.
Think of it like required daily maintenance for a sensitive and powerful machine. If you skip out on maintenance, you risk damaging the machine's parts. Eventually, that means having a device that doesn't work as well as it should.
Regularly skimping on quality sleep can have serious consequences later in life. One study found that people who consistently slept six hours or less every night were at a 30% higher chance of developing cognitive issues.
If you find yourself having trouble with sleep, your environment might be the culprit. Put away phones and other screens an hour or two before bed. The light from these devices can make it difficult for you to fall asleep.
Other factors in your environment can impact your ability to get some shut eye: the temperature, ambient light, sounds, or pets. You should also avoid using your bed for activities that don't need to happen in a bed (like working from home), so your brain won't associate being in bed with performing other tasks.
Your behaviors before bed can also affect your sleep cycle. Avoid drinking alcohol or caffeinated beverages in the evening and stick as close as possible to the same sleep-wake schedule every day.
Brain Health Behavior 4: Stimulate Your Mind Every Day
Your brain is always growing and adapting to every experience you go through. To keep your brain healthy, you must encourage it to continue learning and growing.
There are many activities that can be counted as brain-health exercises to stimulate your mind and keep your brain healthy and adaptable. For example, try something new! Pick up some knitting needles, a paint brush, a new food recipe, a musical instrument, or a pen and paper. It doesn't matter if you're any good at the skill; it only matters that you do it and let yourself enjoy it.
Brain Health Behavior 5: Spend Time in Nature
Urban life is incredibly busy. There's traffic, other people, loud sounds, and myriad of sources of information for your brain to process nonstop.
While mental stimulation can be great, your brain needs breaks to process and relax. Besides adequate sleep, one of the best ways to give your brain a chance to breathe and optimize your mental performance is to spend time in nature. Whether you take a hike or just take time to smell the flowers around the neighborhood, nature can help maintain brain health.
If all you have is 10 minutes a day to take a walk, find somewhere to immerse yourself in nature. This could be a park or a pathway by your work or home. On days you can't make it outside, listening to nature sounds can also optimize your mental function and stress responses.
Brain Health Behavior 6: Manage Stress in Healthy Ways
Stress is normal in life. A little bit keeps you alive and protected from potential threats.
However, too much stress can have many negative effects on your health—including your brain health. That's why you need to find healthy coping techniques to manage stress in your life.
Have multiple coping techniques in your arsenal in case you need them. Since everyone's situation is different, it'll take trial and error to find the right techniques that work for you.
Some healthy coping techniques for stress are the same healthy behaviors to support your brain health! For example, activities and skills you participate in to stimulate your mind can be great ways to relieve stress, and spending time in nature can give your mind time to reset and relax away from stressors.
You can also practice mindfulness techniques. Meditation, yoga, breathing exercises, or guided meditations are great options. Whatever techniques you choose, practice the techniques often, so you can stay on top stress management and make sure your coping methods of choice are available when you need them.
Healthy Behavior 7: Maintain Your Relationships
Humans are social creatures by nature. Societies are built on the foundation of communities—groups of people working together to survive and thrive.
With the need for other people so ingrained into human existence, it isn't a surprise that relationships with others became important for your health. As social beings, human brains are programmed to thrive from activities that stimulate the mind—including being social.
Maintaining strong relationships with your friends, family, coworkers, or others around you supports brain health as you age. Regular social activities are an excellent method to stimulate your mind, and the support from relationships can help you find relief in times of stress.
To help maintain your relationships, set time every day to connect with others. This could be chatting briefly with someone at the grocery store or scheduling a time every day to eat a meal with your friends or family.
Healthy Aging Begins Now
Regardless of your age, healthy aging deserves your attention today. Healthy habits take time to develop and choosing to support your brain health now will prepare you to maintain its normal functioning as you age. You're never too old—and it's never too late—to take charge of your health!
https://askthescientists.com/wp-content/uploads/2022/05/AdobeStock_414066553.jpeg
543
835
staff
staff
2022-05-03 11:00:32
2022-06-21 14:33:24
Healthy Aging: 7 Behaviors to Support Brain Health