Diet and Brain Health: Eat Smart to Power Your Cognition
The human brain is an incredible organ. But it is also a hungry one. Weighing in at only around three pounds, your brain is an apex feeder. It uses 20 percent of all blood and oxygen produced in the body. So, it's important to understand the connection between your diet and brain health so you can eat to support your cognitive functions.
Your brain does a lot, and it needs glucose to do all that work. Glucose is a type of carbohydrate—sugars found in fruits, grains, vegetables, and milk products. But the brain can't store any of that glucose itself. It must continuously receive a supply from the body.
Because your body must absorb and metabolize sugars before they make it to the brain, it's actually best to focus on eating complex carbohydrates. They power your body and keep your brain operating at optimal levels. This means focusing on whole, natural foods and limiting processed foods high in simple carbohydrates and low in fiber and micronutrients.
But what's the best diet type to help your brain? Here's a good rule of thumb: what helps your heart, helps your brain. Let's dig deeper to examine popular diets and discover how to be mindful of what you eat.
Mediterranean Diet
The Mediterranean Sea connects Europe, Asia, and Africa. Since the time boats were first put into the water for fishing, trade, and conquest, the Mediterranean has been the aquatic breadbasket of the Western world.
There are over 500 different species of fish in the Mediterranean, including omega-3 rich, oily fish like sardines, mackerel, and herring. Traditional trading routes connect different cultures with regional foods: protein-rich chickpeas from Israel, Egyptian figs, Greek olive oil, Libyan couscous, and Italian tomatoes.
The nations bordering the Mediterranean focus on a daily consumption of fresh vegetables, fruits, whole grains, and healthy fats, like olive oil. Weekly, they consume oily fishes plus poultry, beans, and eggs for protein. Diets here have a limited intake of dairy products and very little red meat.
An abundance of cruciferous vegetables, nuts, and fresh fish supply the primary benefits of the Mediterranean diet. Oily fish are packed with omega-3s, a type of polyunsaturated fat the brain uses as a cell-building nutrient. Omega-3s are also important for normal brain function, preserving cell membrane health, and facilitating neuroplasticity, the brain's ability to form new neural connections.
The Mediterranean diet's focus on vegetables, fruits, nuts, and limited red meat supports your brain and heart health. The connection between the two is important. Your brain requires 20 percent of all blood and oxygen supplies, so helping your heart will aid your brain.
Keto Diet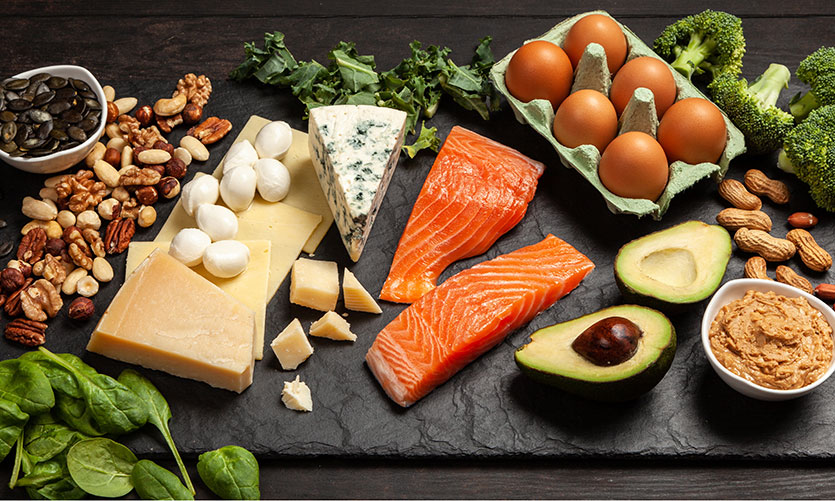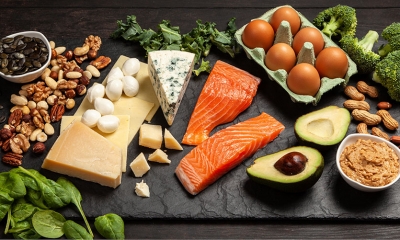 If you have a sweet tooth, this isn't the diet for you.
The ketogenic diet focuses on foods that provide healthy fats, adequate levels of protein, and nearly zero carbohydrates. The idea is to consume most of your calories from fat and limit carbs, thereby putting your body into ketosis—a metabolic state where fat provides most of your body's fuel.
Growing evidence suggests keto diets may help support and protect your brain and nerve cells. Ketones, the product of ketosis, may provide a neuroprotective impact on the brain, especially as you age. While it's difficult to start and maintain a keto diet, there are a number of potential health benefits. By limiting carbohydrates and total calories in your diet, you can experience weight loss (and a healthy weight will stress your heart less), and protected brain function.
Your brain still requires fuel to function. Instead of relying solely on carbs to create glucose, the brain uses ketones to meet its energy needs. Your liver and muscles store glucose in the form of glycogen. After two or three days without ingesting carbs, these reserves are depleted and insulin levels drop. Your liver increases production of ketones by breaking down fat stored in cells.
A sample of foods you can eat on a keto diet are seafood, non-starchy vegetables, cheeses, avocados, eggs, meat, and plant-based oils. Providing the food is low/zero carb, your body will convert stored fat into energy, resulting in weight loss.
Avocados are an excellent food source for brain health. A medium-sized avocado contains nine grams of carbs. The good news is seven of those grams are fiber, so your net carb consumption is only two grams. Avocados are also packed with vitamins and minerals, including potassium.
Ultra-Low-Fat Diet
The polar opposite of keto is the ultra-low-fat diet. As the name suggests, the goal of this diet is to eliminate as much fat consumption as possible from your daily intake. You instead turn to whole grain foods, lean meats (skinless chicken and turkey), white fish, vegetables, lentils, and fruit. Butter, eggs, and cheese are out, but you can eat pasta, rice, and oats.
This diet requires a lot of discipline because your body still needs approximately 10 percent dietary fat to function. Foods like salmon and flaxseed help. And walnuts are an excellent option—loaded with omega-3s, antioxidants, vitamin E, and minerals to support your brain.
Since you can eat fruit, strawberries, blackberries, and blueberries provide flavonoid antioxidants your brain needs to function properly. Berries can boost brain health by maintaining healthy communication between brain cells, fostering neuroplasticity, and supporting normal cognitive function as you age.
Intermittent Fasting
This diet is more about when to eat than what. On intermittent fasting, you avoid eating for set, extended periods of time. It's a new diet trend with centuries-old roots. As hunter-gatherers, humans would often go long period of time between meals. Today, those who intermittent fast eat only during certain time windows, like 16-hour fasts with eight-hours of feeding or one meal per 24-hour cycle.
During fasting, scientists believe new neural pathways are created, strengthening both connectedness and communication paths in your brain. When you're not eating, fat stored in your body can be pulled for energy to power your body. The stress of fasting makes the brain look for nutrients inside the body. The result is your brain receiving the energy it requires and your body losing weight.
This approach to eating brings other cellular-level benefits. Fasting helps your body adjust hormone levels to make stored fat more accessible. Human growth hormones help increase fat loss and muscle gain. Insulin levels drop. Cells undergo cellular repair processes, including autophagy—removing old cells and dysfunctional proteins from inside the cell.
Special consideration should be given to intermittent fasting. If you have a chronic health condition, you should consult a physician before starting—sound advice for anyone starting a new diet program.
Vegan Diet
Veganism is as much a lifestyle as it is a diet. Proponents of the vegan diet abstain from all consumption of animal products for ethical, environmental, and health reasons. Saying no to any meat, dairy, or other animal-based foods and ingredients requires discipline but comes with some brain benefits.
Cruciferous vegetables—bok choy, collard greens, kale, mustard greens, and broccoli—are packed with folate, a water-soluble B-complex vitamin that supports the formation of red blood cells to help the production of energy. Circulation and energy are important for feeding your brain oxygen and nutrients. Folate and other B vitamins (B6 and B12) also have been shown to help support normal cognition function as you grow older.
Beans and legumes, an important staple in a vegan diet, provide proteins and complex carbohydrates. Your body slowly digests beans, helping to maintain stable blood-sugar levels. Because your brain utilizes so much energy, beans are a good source of complex carbohydrates that slowly enter your bloodstream to continually feed your cognition.
However, a strict vegan diet can place demands upon your brain. You need choline to support healthy brain functions like the regulation of memory, mood, and muscle control.
Unfortunately, the best sources of choline are beef, eggs, fish, and chicken, while nuts, legumes, and vegetables contain little. Because it is difficult to obtain optimal levels of choline from a vegan diet, you may consider supplementing to meet your needs. The same is also true of vitamin B12, since it is only found in animal foods
Many may find a strict vegan diet to be difficult. But you should try to incorporate elements of a plant-based diet into your normal routine. Cutting back on animal proteins can benefit your weight, blood pressure, and cholesterol levels.
Mindful Eating
As you've seen, parts of many popular diets can be good for your brain. So, how do you choose?
The best diet for you is the one you can stick with. Being conscious of your consumption helps you appreciate your food and, hopefully, encourages better food choices. Maintaining a healthy diet isn't always fun. But a lifetime of considerate eating can fuel your brain and body with the nutrition they need.
And good brain health doesn't stop and start with your fork. Exercise helps improve blood flow and memory by stimulating the release of growth factors—chemicals in your brain that enhance learning, mood, and thinking. Get smart. Include exercise and a healthy diet to live a healthy life.
References
https://neuro.hms.harvard.edu/harvard-mahoney-neuroscience-institute/brain-newsletter/and-brain/sugar-and-brain
https://www.health.harvard.edu/heart-health/confused-about-carbs
https://www.mayoclinic.org/healthy-lifestyle/nutrition-and-healthy-eating/in-depth/mediterranean-diet/art-20047801
https://www.ncbi.nlm.nih.gov/pmc/articles/PMC1281283/
https://www.rush.edu/health-wellness/discover-health/health-benefits-vegan-diet
https://www.ncbi.nlm.nih.gov/pmc/articles/PMC1123448/
https://www.medicalnewstoday.com/articles/326209#People-do-not-consume-enough-choline
https://ods.od.nih.gov/factsheets/Choline-Consumer/
https://www.webmd.com/diet/features/eat-smart-healthier-brain#1
https://www.healthline.com/nutrition/vegan-diet-benefits
https://www.healthline.com/nutrition/what-is-ketosis#section1
https://www.medicalnewstoday.com/articles/319196
https://ghr.nlm.nih.gov/gene/KCNA1
https://www.ncbi.nlm.nih.gov/pubmed/31405021
https://www.medicalnewstoday.com/articles/319196
https://www.dietdoctor.com/low-carb/does-the-brain-need-carbs
https://www.webmd.com/women/reducing-dietary-fat#1
https://www.medicalnewstoday.com/articles/324044#berries
https://www.healthline.com/nutrition/intermittent-fasting-guide#effects
https://www.tmc.edu/news/2018/11/fasting-food-for-the-brain/
https://www.health.harvard.edu/blog/regular-exercise-changes-brain-improve-memory-thinking-skills-201404097110
https://askthescientists.com/wp-content/uploads/2020/04/AdobeStock_306476105.jpg
501
835
staff
staff
2020-04-20 16:00:58
2022-07-20 14:55:56
Diet and Brain Health: Eat Smart to Power Your Cognition