Explore Sound and Health to Help You Battle Noise Pollution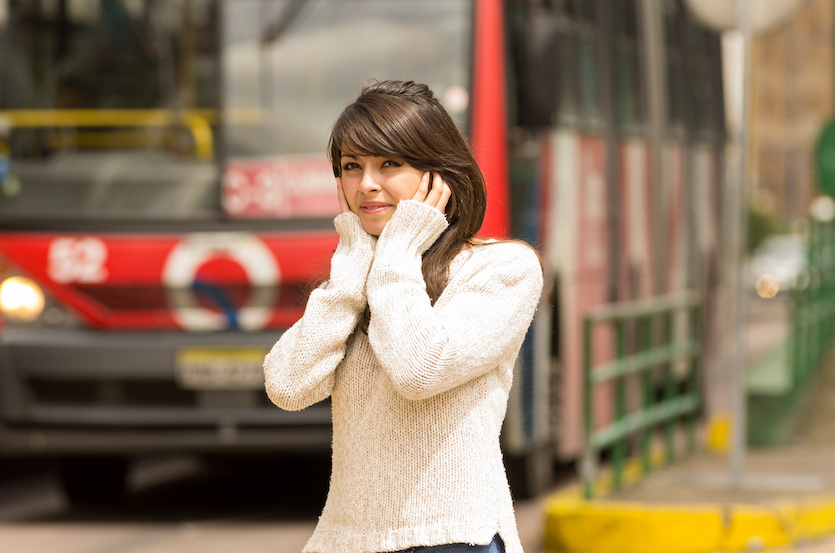 Think back to the last time you experienced silence. Was it in the woods? Maybe it was on a flight with your noise-cancelling headphones on. Regardless of the setting, one fact is almost certain: it wasn't truly silent.
Whether it's the hum of a refrigerator, the chirping of birds, or the faintest ruffling of leaves, there's always some sound to break the silence. Noise is virtually impossible to escape. It's just a fact of life.
Sound is so constant that most people don't think too much about it. Some noises are more pleasant than others, but beyond that it's all just, well, noise. But sound isn't just a question of pleasant and unpleasant—it's also a question of healthy and unhealthy.
Now before you run off to make your life as quiet as possible, let's get one thing straight: not all noise is bad. Understanding the links between sound and health will help you keep the negative noise in your life to a minimum, while enjoying all the benefits of music and other positive sounds.
So put those ear plugs back in the drawer (for now) and keep reading!
The Physiology of Hearing
Any discussion of sound and noise should start with hearing. And to talk about hearing, you have to talk about ears.
The ear is divided into three portions: outer, middle, and inner. Each plays a vital part in transforming sounds from your environment into electrical impulses that your brain can interpret. A sound's journey starts in the outer ear, which includes the visible portions of the ear on the head (aka the auricle or pinna), as well as the outer ear canal.
The auricle works like a funnel. It captures sound waves from your environment and brings them into the ear canal. Once they're in the canal, the waves are amplified as they are channeled to the eardrum. And that takes us to the middle ear.
The eardrum, or tympanic membrane, is a layer of connective tissue and skin that separates the outer ear from the middle ear. When sound waves hit the eardrum, it begins to vibrate. Those vibrations cause a series of tiny bones, collectively called ossicles, to move. As these bones move, they amplify the sound waves.
A sound wave's journey ends in the inner ear. That's where the waves are channeled into the cochlea, a fluid-filled, spiral-shaped organ. The sound waves set the cochlear fluid into motion, which in turn moves thousands of nerve endings. These nerves convert the vibrations of the sound wave into electrical impulses that are then relayed to, and interpreted by, the brain.
If this seems like a complicated process, that's because it is! And there's a lot that can go wrong—especially when loud noises are involved. But, as it turns out, the negative effects of certain noises extend far beyond the physiological process of hearing.
Noise Pollution: The Woes of City Living
If you live anywhere near a city, you're probably familiar with the concept of light pollution. Noise pollution, on the other hand, is talked about far less. But its effects are just as widespread—and the health risks it poses are far greater.
So what is noise pollution? In short, it's the long-term presence of dangerously loud noises (usually in urban areas).
The definition above requires some unpacking. For starters, what qualifies as a dangerously loud noise? Sound intensity, or volume, is measured in decibels. The hum of a refrigerator, for instance, clocks in at roughly 40 decibels. An air conditioning unit, 55 decibels. In the United States, the Occupational Safety and Health Administration (commonly called OSHA) requires employers to implement hearing-protection programs if a workplace is louder than 85 decibels.
But you don't have to operate a jackhammer for a living to be regularly exposed to sounds over that 85 decibel threshold. In certain cities in India, traffic sounds alone exceed 85 decibels. And in the recovery wings of some US hospitals, the ambient volume can reach over 90 decibels. (Not exactly a peaceful healing environment.)
Toxic Noise: The Mental and Physical Effects of Noise
If there's one takeaway from the previous section, it's this: life is noisy. Cities are noisy. And the world is only growing louder. So what? Aside from possibly damaging your hearing—a serious health risk on its own—long-term exposure to noise pollution can impact your health in a number of ways.
And the adverse health effects of noise can start at just 50 decibels. If you're frequently exposed to sounds above that threshold, your blood pressure might start to creep up. Take the volume up a few notches and you may be at higher risk for heart disease.
Those are just the physical effects of noise pollution—let's take a look at the mental effects.
One of the most obvious effects of noise pollution is decreased sleep time and quality. It's pretty straightforward: the noisier it is, the worse you're going to sleep. Poor sleep has physical ramifications (you'll feel tired), but it can also heighten your feelings of anxiety and increase your irritability.
Noise pollution can also make it difficult to focus—both in the office and at school—and increases anxiety. This can, in turn, increase your sensitivity to noise—creating a spiraling feedback loop.
Reclaiming Noise: Soundscapes and Other Sonic Experiments
Now you know that noise pollution often refers to the endless cacophony of traffic, construction, and general loudness present in most urban areas. But what if those sounds (or others in your neighborhood) were replaced by soothing ones? If blaring horns increase your anxiety, could, say, a birdsong lessen it?
Fortunately, you don't have to rely on speculation. Various public officials, musicians, and sound engineers have followed that exact train of thought and implemented helpful soundscapes into public spaces.
A soundscape is basically an intentionally selected soundtrack played within a space. The soundtrack could be made up of anything. You can choose classical music, the sound of a bubbling stream, or, in the case of one California city, birdsong. In Lancaster, California, the mayor approved the installation of speakers along a portion of the main road. These speakers constantly played a mix of music and birdsong. Within a year, crime was down by 15 percent.
In London, a similar speaker system, which played only classical music, was deployed at a subway station with high rates of crime. The results were similar: crime rates fell.
How Music Affects Your Health
After all this talk about the negative effects of noise, one question is probably on your mind: what about music? But don't worry, you can file music under "good noise."
People love to tout the benefits of listening to classical music: it's good for your brain, it's good for your baby, it's good for your dog, and so on. All of these may be true, but let's take a look at why.
Music engages multiple areas of the brain, including some not associated with hearing and auditory processing. Using functional magnetic resonance imaging, or fMRI, researchers have been able to see music's effect on the brain in real time. As individuals listen to music, it stimulates activity in the areas of the brain associated with memory, movement, and emotion.
Perhaps this increased brain activity is what led to the popular notion that classical music makes you smarter. It's hard to quantify the effect of music on intelligence, though. But here's what we do know:
Listening to music can cause the body to release dopamine, serotonin, and other neurotransmitters that help regulate mood
Music can help reduce anxiety
Listening to classical music and jazz can help alleviate down feelings
Music can help you feel energized
These health benefits and others have led to the development of music therapy.
Music Therapy Connects Sound and Health
Music affects health in a number of ways, leading health professionals in a number of fields to put the positive effects of music to good use. These practices, used in fields as varied as physical therapy to psychological counseling, are referred to as music therapy.
In short, music therapy refers to the use of music (both listening and playing) by a licensed professional to achieve certain outcomes in a clinical setting. It's a wide field and, as more discoveries are made, it's only growing wider.
You might be familiar with music therapy as a form of mental-health treatment, as it often appears in mainstream media and pop culture. And it's true: music can help individuals manage anxiety, mood, and more. However, you're likely less familiar with music therapy as a form of physical therapy.
One surprising use case for music therapy is helping stroke patients. If an individual recovering from a stroke has lost their ability to speak, they may be able to sing. As they practice singing, the patients can work to regain some of the motor and cognitive functions required for speech.
A similar approach can be used to help patients with Parkinson's Disease. In these cases, the rhythmic qualities of music can help some patients with movement.
Making the Most of Sound and Health in Your Life
It's impossible—or at least incredibly impractical—for most people to avoid noise pollution altogether. So, what's the next best thing?
Be mindful of the noise in your life.
If you live just off of a busy intersection, you may want to invest in some ear plugs. They could be the difference between a good night's sleep and hours of tossing and turning. If you work in a noisy environment, definitely protect your hearing. Also try to take time for meditation and other quiet activities to balance out your noise exposure.
But don't be afraid to throw some headphones on from time to time and listen to old favorites, new tunes, or even some birdsong mixed with classical music. All at a safe volume, of course!
https://askthescientists.com/wp-content/uploads/2021/08/AdobeStock_78160423.jpeg
553
835
staff
staff
2021-08-02 11:00:56
2022-07-03 20:13:43
Explore Sound and Health to Help You Battle Noise Pollution