MySmart™ Shake Protein Bases: What You Need to Know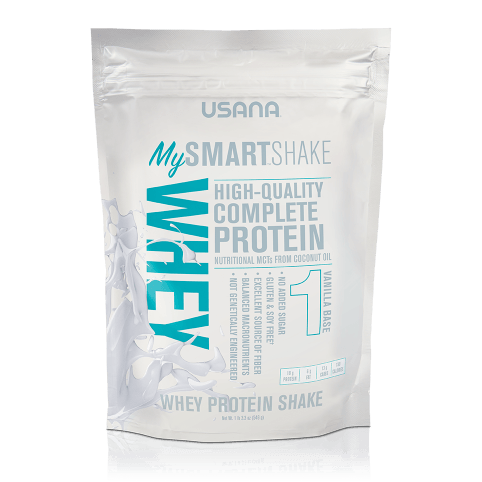 USANA MySmart shake is a convenient way to customize your diet, and Protein Bases are where your MySmart shake begins. Choose a plant-based protein, a whey protein, or a soy protein. After selecting your base, add a Flavor Optimizer and/or a Booster to customize your shake…or simply enjoy as is.
Whichever base you choose, you'll receive high-quality, complete protein with no added sugars. These options are also an excellent source of dietary fiber to help you feel fuller, longer. They include a small amount of saturated fat from coconut oil, which is a beneficial fat. You'll receive the benefits of medium-chain triglycerides (MTCs) from coconut oil, which are beneficial fatty acids.*
For those with additional dietary concerns, these products are not genetically engineered, contain clean ingredients, have a low glycemic impact, and are gluten free.† Each base has a light vanilla flavor, but feel free to add a Flavor Optimizer or blend in fresh fruits to make your shake taste just the way you like it.
What's in the Plant, Whey, and Soy Bases?
150 calories
18 g protein
0 g sugar
8 g fiber
*These statements have not been evaluated by the Food and Drug Administration. This product is not intended to diagnose, treat, cure, or prevent any disease.
†No gluten-containing ingredients are used in this product. Manufactured on equipment that also processes products containing milk, egg, peanuts, soy, tree nuts, sesame, wheat, and gluten.
Can't find what you are looking for? Please try your search again or submit a question here