USANA® MySmart™ Protein Shake Bases
USANA® MySmart™ Protein Shake Bases: Convenient Nutrition that Fits Your Busy Life
A portion-controlled shake or smoothie can make it easier to reach your health, weight, and wellness goals. You can pick the protein you prefer for your shake with USANA MySmart. Simply choose the Protein Base that meets your unique dietary needs—whey or soy. Either option will help you add 18 grams of high-quality protein to your daily diet.
MySmart products are formulated to meet the needs of health-conscious consumers:
Clean ingredients
Low-glycemic
Gluten free†
In addition to plenty of protein, MySmart Protein Shakes supply a healthy ratio of fat, fiber, and carbohydrates to help you meet your daily macronutrient needs. And, to help ensure you get your essential micronutrients for daily wellness, add a supplement like the USANA CellSentials or HealthPak for well-rounded nutrition.*
If you want to bump up your shake's fiber or protein content even further, add one of the MySmart Boosters—Fibergy Plus or Protein Plus.
MySmart Protein Bases—An Intelligent Choice
A nutritious shake begins with a USANA MySmart Protein Base. Choose whey protein or soy protein. Whichever base you choose, your MySmart Protein Shake is made from hunger-satisfying ingredients that help keep you feeling fuller, longer.
Each Protein Base is an excellent source of a high-quality, complete protein (not genetically engineered) and dietary fiber. And all three include a small amount of saturated fat from coconut oil—a source of nutritional medium-chain triglycerides (MCTs), which are beneficial fatty acids.*
What won't you find in your lightly vanilla-flavored MySmart Protein Base? Added sugars. So, no matter which base you choose, you can feel good that you're making a smart protein pick.
MySmart Protein Bases at a Glance
Nutrition information for two scoops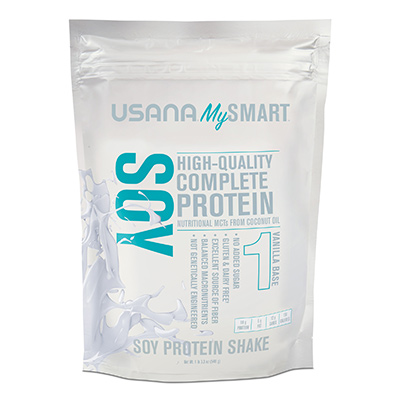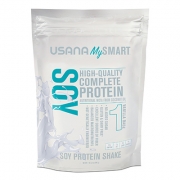 Soy Protein Shake
150 calories
18 g protein
0 g sugar
8 g dietary fiber
12 g carbs
6 g fat
Dairy free
CONTAINS: Soy, tree nut (coconut)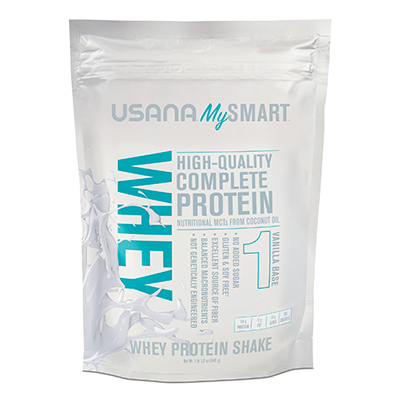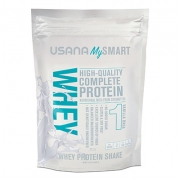 Whey Protein Shake
150 calories
18 g protein
0 g sugar
8 g dietary fiber
13 g carbs
6 g fat
Soy free
CONTAINS: Milk, tree nut (coconut)
How to Prepare Your Perfectly Personalized USANA MySmart Shake
With MySmart Protein Shakes, your options are endlessly delicious. Try mixing your protein base with almond milk, ice, and cold-brew coffee to get a frosty confection with a caffeine boost. Or blend your base with peaches, strawberries, and bananas, along with ice and coconut milk (not the high-calorie canned kind—the dairy milk substitute), for a tropical treat.
In just a few simple steps, you can prepare your shake, your way:
Depending on your calorie and weight-management goals, simply combine two or three scoops of your Protein Base with 12–14 ounces of cold water. (You can add more water, if needed, to get to your desired consistency.)
Add ice, fruit or vegetables, milk (dairy or plant-based), and other mix-ins like chia seeds or spices to add even more flavor flair.
Optional: For additional protein or fiber, add a scoop of MySmart Protein Plus or Fibergy Plus Booster.
Blend thoroughly for a light, satisfying shake.
Drink a shake as part of a healthy breakfast or as a satisfying snack to help you overcome an afternoon energy slump. No matter how you choose to shake up your nutrition, USANA MySmart is a brilliant way to support your healthy lifestyle.
Allergen Statement
† No gluten-containing ingredients are used in this product. Produced on equipment that also processes milk, eggs, fish, shellfish, tree nuts, wheat, gluten, and soy.
See full allergen chart
Frequently Asked Questions About USANA MySmart Protein Shakes
Is there a secret to getting a smooth MySmart Protein Shake?
The coconut oil in the MySmart Protein Bases can make the powder a bit sticky and prone to clumping. You might need a little extra effort to get your shake to the consistency you prefer.
At home, try using an electric hand mixer or blender.
If you're on the go, use a BlenderBottle®††. For best results, try shaking your drink for 30-60 seconds, let it sit for a couple minutes, then shake for another 30 seconds.
††All trademarks are the property of their respective owners.
Why does the vitamin and mineral content of the MySmart Protein Shakes seem low?
The only vitamins and minerals (micronutrients) present in the MySmart Protein Bases are naturally occurring in the ingredients (with the exception of electrolytes). We did not add a vitamin/mineral pre-mix to the shakes.
There are three reasons USANA chose not to include an added vitamin/mineral mix in the new MySmart Protein Shakes:
First, we wanted a clearer distinction between the nutritional products and the food products. The nutritional line of products (supplements) is designated as the "micronutrients" and the foods line of products are the "macronutrients." These two products lines work together to help support optimal health. The vast majority of people using the USANA® foods are likely already taking a good multivitamin supplement, making the vitamin/mineral mix in the shakes less significant or even redundant.
Secondly, there is a commitment to make our formulas more universal internationally. Differences in vitamin/mineral regulations between countries make it difficult to unify the formulas and simplify the message internationally. Not including the vitamin/mineral mix also results in a much shorter, cleaner, and easier to understand ingredient deck.
Third, we realize that people have unique health needs and goals and we are committed to delivering a product line that is more personalized.
What is the glycemic index of the MySmart Protein Shakes?
Glycemic Index (GI) is a measurement conducted on carbohydrate-containing foods and their impact on circulating blood glucose (sugar). The MySmart Protein Bases contain no added sugar and the carbohydrate content is too low to test the glycemic index. In other words, they are naturally low GI in the same way that nuts or fish are low GI, since they contain too few carbohydrates to be tested and their influence on blood glucose would be insignificant.
*These statements have not been evaluated by the Food and Drug Administration. These products are not intended to diagnose, treat, cure, or prevent any disease.
Can't find what you are looking for? Please try your search again or submit a question here