Building the Case for a Strong Base of Broad-Spectrum Nutrition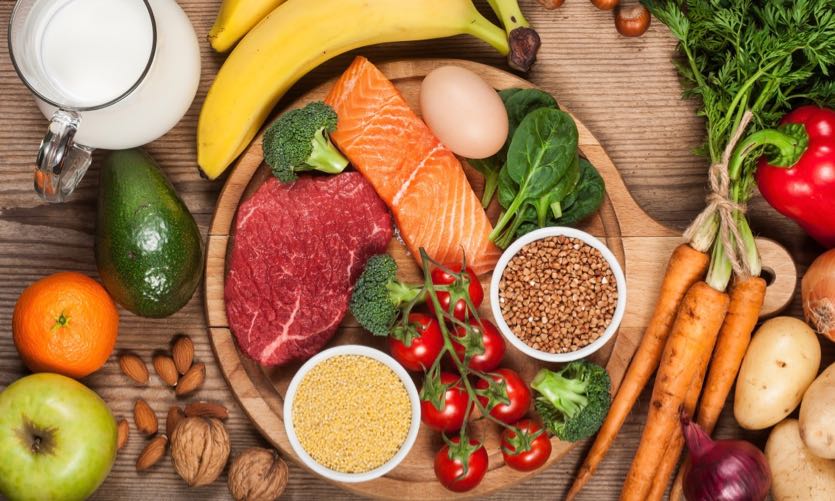 It's easy to recognize how great you feel when you eat well. When you make healthy eating a habit, this sense of wellbeing can become your new normal. That's because you're laying a foundation of broad-spectrum nutrition that's essential for encouraging your body to thrive.
To maximize your health you need consistent, high-quality nourishment. Use your diet and supplements to stockpile the solid foundational nutrition your body can draw from always.
Build Health Brick by Brick
Consider the idea of foundational nutrition. Just like a home stands atop a strong foundation, your body builds its health on a base of broad-spectrum nutrition.
A healthy, complete diet is full of micro- and macronutrients—vitamins, minerals, carbohydrates, fats, proteins, and it even includes water. Like bricks, these pieces of your diet fit together to support your body in all it does to keep you feeling your best. Whole foods and essential nutrition give you a firm footing and solid start toward the goal of overall wellness, and cells need water to support healthy, proper function.
These bricks in your dietary foundation need mortar to hold them together. A high-quality dietary supplement acts a lot like that glue. Supplements can provide a variety of nutrients that might not be prevalent in your real-world diet. These fill the nutrient gaps that exist when eating perfect isn't possible. And they can help strengthen your nutritional foundation when your body needs extra support.*
How does foundational nutrition benefit your body? Basically, in every way:
Ensures basic dietary requirements are met
Builds up stores of important vitamins and minerals
Supports the immune system*
Maintains brain health and cognitive function*
Helps preserve heart and lung health*
Supports the body's defenses from free radicals and oxidative stress*
Your body does its best when your diet provides more than the bare minimum you need to survive. A wealth of resources from a nutritious diet amplifies your health and your body's ability to maintain that feeling of well-being—no matter what life throws at you.*
---
Essential Nutrition and Your Health
The word "essential" comes up a lot when talking about nutrition. Nutrients are considered "essential" when they cannot be made by your body, so they have to come from your diet. Vitamins, minerals, carbohydrates, fatty-acids, and amino acids are all essential nutrients.
These nutrient bricks are used by your body for everything you do. You secure that foundation by laying new bricks of essential nutrition every day. Since carbs, fats, proteins, vitamins, and minerals are all important, make sure you supply your body with plenty of each from your daily diet.
When your eating isn't as healthy as it should be, you start to miss out on the nutrients that keep you in tip-top shape. So, secure your nutritional foundation with a wide variety of healthy foods and help reinforce it with supplementation.
---
Weather Life's Storms with Foundational Nutrition
Broad-spectrum nutrition is necessary to maintain your health during physically trying times. Busy lives bring a host of issues that can send your body into survival mode. Stress, poor sleep, and fatigue are just a few of the ways your body is challenged.*
One example comes from your immune system during busy times. When germs are everywhere one of your best defenses is a nutritious diet. Bacteria and viruses thrive in bodies unprepared for battle. They pick on cells and systems that don't have the support to fight back.*
That's why it's important to lay a strong foundation of essential nutrition. Your body can make better use of dietary resources when there's plenty available—instead of scrounging for vitamin, mineral, or macronutrient morsels.
Another area supported by foundational nutrition is your body's response to stress. Work (whether in or outside the home) really takes a toll on your body. A nutritious diet can help alleviate some of that stress. A body flush with vitamins and essential nutrients can dedicate more energy to help balance stress levels.*
Focusing on broad-spectrum nutrition may even help provide more restful sleep. Healthy eating supports healthy sleeping, especially when your diet is full of the B vitamins that regulate melatonin, the sleep hormone. And a good night's sleep is one of the most effective ways to combat stress and support your immunity.*
You can be prepared to handle the curveballs life throws at you by maintaining that foundation of good nutrition. Combat germs with a great diet. Sleep better and stress less by acquiring broad-spectrum nutrition. A carefully laid base of essential nutrition makes all of this possible.*
Broad-Spectrum Nutrition Helps Create Opportunities for Your Body
Foundational nutrition has benefits beyond fulfilling your body's basic needs. That's because the roles of vitamins and minerals are magnified in the body as you build your nutritional foundation. Everything from nutrient storage to additional benefits at advanced levels are possible when you have a strong nutrient foundation.
When you cultivate broad-spectrum nutrition, you store up certain essential nutrients for later use. Vitamin B12 is an example of an essential nutrient that can be stockpiled for future use—if your body has all it needs. Your liver can save extra B12 from your diet for up to four years.
Red blood cells need B12 to work properly and transport oxygen throughout your body. In times when your diet doesn't supply ideal levels of vitamin B12, the liver springs into action. It taps into the stock to help restore normal levels and maintain red-blood-cell health.*
Antioxidants keep working in your body long after your diet has met your daily requirements. Two examples: Lutein and lycopene. These two powerful antioxidants work tirelessly to help support the health of your eyes.*
When reserves of vitamin A, another natural antioxidant, are built up, it takes on other important tasks. This includes fighting harmful free radicals and helping clean up oxidative damage. Vitamins C and E work in much the same way. Extra vitamins C and E help support your cardiovascular system and immunity.*
Your bones also thrive when your diet includes broad-spectrum nutrition. Vitamin D's primary role is helping your bones absorb calcium. Once your daily threshold levels of vitamin D are met by your diet, it can work on other important jobs. Vitamin D works on supporting healthy brain function and helping to protect your heart and immune system.*
A strong nutrient foundation helps your body to thrive—not just survive. Powered by the extras in your diet, essential vitamins and minerals help your health and maintain your wellbeing.*
Be Consistent For Lifelong Health
Like any structure, a nutritional foundation requires consistent upkeep. That's where supplements can take center stage. A broad-spectrum multivitamin and multi-mineral—and other quality nutritional supplements—can help fill dietary gaps to assist in maintaining the constant level of nutrition necessary for healthy living.*
Supplements can be taken daily as a source of essential vitamins, minerals, and other important—but not essential—micronutrients. To maximize their benefit, be consistent with your supplementation. Take your supplements every day, as directed—which may mean with meals for ideal absorption.
Consistency with your healthy diet and supplements means your body can rely on them as solid sources of great nutrition. Creating this base of nutritious foods puts your body on the path to wellness every day. And you'll be on your way to setting a stable footing for living your best life.
*These statements have not been evaluated by the Food & Drug Administration. This product is not intended to diagnose, treat, cure, or prevent any disease.
https://askthescientists.com/wp-content/uploads/2020/01/Hair-food-AdobeStock_140683789.jpg
501
835
Sydney Sprouse
Sydney Sprouse
2020-01-06 10:00:55
2022-07-20 15:24:19
Building the Case for a Strong Base of Broad-Spectrum Nutrition