Eating Bugs: The Next Block in the Food Pyramid?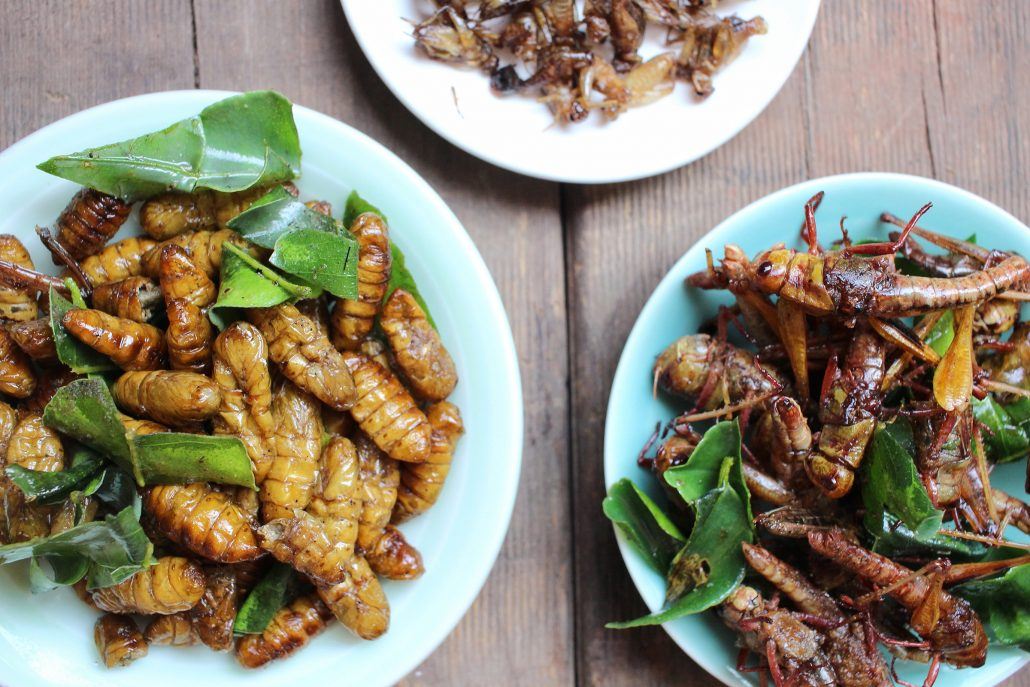 If eating bugs makes your skin crawl, you might be in the minority.
With more than 1,900 species of edible insects on Earth, bugs are a regular item on the dinner menu. Two billion people regularly munch on insects. Entomophagy (the practice of eating bugs) is common in Africa, Asia, and South America. Insects are even considered local delicacies in tropical paradises.
So reprogram your taste buds because insects are actually quite nutritious—and even delicious. Bon appétit!
Eating Bugs is Part of Our Human History
Humans have been eating bugs for ten thousand years. Entomophagy (the practice of eating bugs) was first done by hunter-gatherers to survive when resources were low. They learned which bugs were edible by observing animals. This helped them steer clear of poisonous insects and spiders. Bugs quickly became a regular source of nourishment—one that has persisted to this day.
At first glance, insects do not seem to make a great meal. But when compared to other protein sources, those tiny bugs offer more than meets the eye. Grasshoppers are more densely packed with protein than beef. And they differ from beef in two other categories: fiber and fat. Per ounce, grasshoppers have less fat and more fiber.
Grasshoppers are not the only insects worth mentioning. There are several other bugs on dining tables throughout the world.
People Eat Insects All Over the World
South America and Africa
Beetles are a favorite snack of people living in the Amazon basin and parts of Africa. They are richer in protein than other insects. Beetles are also great at turning cellulose (plant sugars) into digestible fats.
Australia
Ants are tiny but they have a lot to offer your body. Aboriginal peoples in Australia eat honeypot ants as a sweet treat, because these ants' bellies are chock-full of a nectar-like substance. In Colombia, a type of leaf-cutter ant is toasted and eaten as a snack.
Thailand
Red ants are often cooked or added to salads in Thailand. One-hundred grams of red ants provide more protein than 100 grams of egg (about two boiled)—approximately 14 grams for ants to 12 grams for eggs. Ants are low in calories and carbs, so they're a real bargain for the calorie-conscious.
Latin America, Asia, and Africa
Crickets, grasshoppers, and locusts are the most commonly eaten insects. This could be because they are easy to find and catch. Many people say that roasted crickets taste nutty. These bugs pick up the flavor of whatever they are cooked with and are popular in stir-fries and curries.
Bees are already sources of a crowd favorite—honey. But bees themselves are eaten, too. The indigenous peoples of Africa, Asia, Australia, and Mexico eat bees when they are still young. The egg, larval, or pupal bee brood taste like peanuts or almonds. Watch out for adult bees. They can sting.
South Africa
Stinkbugs are hidden treasures of insect cuisine. Consumed in Zimbabwe and parts of South Africa. They are said to add an apple flavor to your cooking and are a rich source of iodine.
Food of the Future: Insects Are a Sustainable Protein Source
The current world population is seven and a half billion. To feed their growing populations, many world leaders are looking for sustainable sources of protein. Eating bugs provides a solution.
Insects made headlines in recent years because raising them is cheap to grow and easy on the environment. Crickets for example, take up very little space, reproduce quickly, and can sustain themselves with composting scraps and a little bit of water. Many call bugs "eco protein" because of their efficiency in converting plants to protein.
This makes insect farming more efficient than raising cattle.
Bugs require less water than livestock and take up less space. One-hundred pounds of cattle feed is required to produce 10 pounds of beef. But the same amount of feed yields 45 pounds of cricket.
Fans of "eco protein" are also excited about eating bugs as a method of pest control. Harvesting insects may be a more environmentally conscious solution to controlling the pests that destroy crops. That's why insect cuisine is gaining traction as an alternative to pesticides.
Protein—Bugs or No Bugs—is Essential for Your Health
Whether you eat bugs, beef, chicken, fish or vegetable sources, quality protein in your diet is a must. Protein is essential to physical fitness. Most people understand that protein builds muscle, but it does much more than that. Your connective tissues are rich in protein. Hair, antibodies, blood, and enzymes all require protein to function properly.
Dietary protein is often misunderstood—with many not understanding the current recommendations and guidelines.
Current dietary recommendations say you should get 10 to 35 percent of your daily calories from protein. There are lots of ways to do that. Animal meat is a good source, but so are Greek yogurt, milk, beans, cheese, nuts, and eggs.
And you can consider insects in that list of protein sources, if you are brave enough to try eating bugs.
Are There Cons to Eating Bugs?
Every big change has pros and cons. There are great reasons for eating insects, but let's touch on a few downsides to consider before adding bugs to your diet.
It's important to note that all the "cons" listed here only present a very small risk, no greater than the risks associated with the foods we already consume. Experts agree that the benefits of eating bugs significantly outweigh the risks.
Food Allergies
While insects have been consumed for centuries, modern science knows very little about how they affect our bodies.
One study found that insects have the potential to trigger the same kind of allergic reaction that shellfish (like shrimp and lobster) do.
Insects and shellfish are both classified as arthropods, which means they have an exoskeleton. This similarity in anatomy and physiology could be related to the possibility of allergens.
If you know you have a shellfish allergy, you may want to pass on the roasted grasshoppers.
Bacteria
Insects should always be raised in a clean environment. If the farm isn't hygienic, there is a chance for a small amount of spore-bearing bacteria, or a parasite to find its way in.
Regulating the conditions in which bugs are farmed would likely be enough to eliminate this risk entirely.
Pesticides
There is very little research on pesticide use in insect farming. One study found very low levels of certain harmful chemicals in raised bugs. However, these levels were no greater than what we find in our animal-based foods already.
Toxins
Ants, bees, and many other insects produce toxins as a defense mechanism for predators. These toxins can be dangerous to humans if consumed. Some can even kill you.
You should have some knowledge of which insects are safe to eat. This risk is much higher with eating insects in the wild as opposed to bugs raised by an insect farmer.
How To Start Eating Insects
If you're sold on the benefits of eating bugs, you're probably wondering how to get started. The retail market for insects is small, so you'll likely be purchasing them online.
One of the least shocking ways to start is with cricket flour. This can be purchased ready-to-use and added to baked goods, salads, soups, and smoothies.
You can also order dried and prepared crickets. But remember that these bug snacks are akin to eating beef jerky. The texture and consistency are nothing like an actual steak.
The tastiest way to start eating insects is to order them live, directly from an insect farm.
Freeze your live bugs for 2-10 hours. Wash them well. Then prep and cook them like you would any regular meat. You can sauté them with garlic or vegetables, or bread them with flour and fry them in oil or add them to pasta. There are plenty of recipes online for inspiration.
Grow Your Own Bugs
Once you order some bugs, you'll probably realize that they're just as delicious as a lot of other foods! The most environmentally and financially sustainable way to incorporate bugs into your diet is to raise your own bugs at home.
Crickets, mealworms, and waxworms are some of the most available bugs and require as little as two square feet of space. The size of a plastic bin. You can purchase a pre-built hive, or download a plan and build your own habitat.
Eat a Bug, They're Good for You
If you're looking to spice up your diet, look no further than the bugs outside. Eating bugs is perfectly safe—as long as you get the right ones—and it's an excellent source of protein. Your body needs protein to keep you healthy and active.
But if you're nervous about trying a bug with your next meal, consider the positive environmental effects associated with bug farming. And you won't be alone. Join the billions of people who make insect protein a regular part of a healthy diet.
https://askthescientists.com/wp-content/uploads/2017/10/AdobeStock_101945508.jpeg
800
1200
staff
staff
2022-10-20 10:00:03
2022-10-20 13:00:35
Eating Bugs: The Next Block in the Food Pyramid?