Sleep And The Senses: Tips and Tricks for Sounder Sleep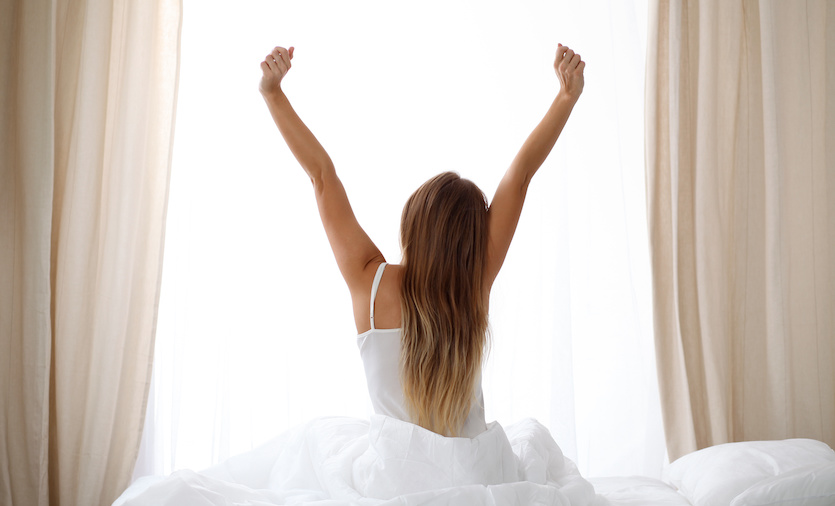 Nothing can ruin your day like a restless night. You go to bed exhausted, hoping for some sweet rest and recuperation, only to toss and turn for hours. And then you wake up, somehow even more exhausted. It's an awful feeling.
After one of those nights, you might notice that your vision, hearing, and other senses feel a little, well, off. So what gives? Why does a poor night's sleep affect your senses?
Sleep is an incredibly complex part of life, though it may not appear that way. Scientists are still trying to reveal a more complete picture of sleep's vital role for the human body and brain. But there's already a wealth of research on the subject out there. And some of that research explores the connection between sleep and the senses.
As it turns out, this connection between sleep and the senses is a two-way street—or maybe even a multi-road intersection. Poor sleep can reduce the acuity of the five senses, but the five senses can also be responsible for a bad night's sleep. And, conversely, you can sleep better using your senses with just a little bit of planning.
The Physiology of Sleep
It's only in the last 70 years or so that scientists have come to realize that sleep is not a passive activity—at least not on a neurological level. While you sleep, your brain is actively engaged in various activities that help your brain and body function properly.
There are two types of sleep: rapid eye movement (REM) and non-rapid eye movement (NREM). Sleep is further broken down into stages. During stages one through three, known as quiet sleep, you experience NREM sleep. It's only in the fourth stage, sometimes called active sleep, that REM sleep starts.
The exact nature of each stage of sleep and the brain's activities during each is still up for debate. But here's what is known: sleep plays a critical role in solidifying and compiling memories. Without sleep, you'll likely find it more difficult to remember things. Originally, memory compilation was thought to occur during REM sleep. Recent studies, however, indicate that NREM sleep might be more critical in maintaining healthy memory function.
Lack of sleep can also affect brain plasticity—or the brain's ability to process new information and input. This is where sleep, or lack thereof, can start to impact your senses. Your senses are simply stimuli picked up by various receptors and interpreted by your brain. If your brain plasticity decreases, it responds more slowly to that sensory input. And the interpretation side of sensation slows.
Sleep and the Senses: What Happens When You Get Too Little Sleep?
As you just read, the less you sleep, the more your brain plasticity decreases, which can affect your senses. But what does that look like in practice? How exactly are the senses affected?
Let's start with vision. Everyone knows that driving drowsy is dangerous. But, as it turns out, falling asleep at the wheel isn't the only danger. In a study conducted on long-haul truckers, researchers tried to measure the effects of sleep deprivation on vision.
After 27 hours without sleep, participants responded to a series of visual stimuli. The results were about as expected: In their sleep-deprived state, the participants reacted more slowly to visual cues and they missed more cues than when they were well rested. This had nothing to do with eye function, however. The researchers conducting the study realized that participants' vision impairment was all due to issues on the cognitive side. That is, participants weren't seeing any worse; their brains were just interpreting more slowly and less fully.
When your brain's ability to interpret input slows, it doesn't just affect vision—it extends to all of the senses. In a sleep-deprived state, you might notice you react to auditory stimuli (or sounds) more slowly. And the mental fog that accompanies sleeplessness may begin to encroach on day to day tasks.
Keep Your Senses Sharp With a Good Night's Sleep
At this point, you've hopefully picked up on one main fact: poor sleep can have a negative effect on the acuity of your senses. But let's move past the negative and focus on action and self-improvement. This raises a new question: how can the connection between sleep and the senses be used to improve your senses?
Well, if you're basing your answer on the past few sections of this article, the answer is pretty clear: to keep your senses sharp, be sure to sleep enough. This, of course, is easier said than done.
Fortunately, when it comes to sleep, you can use your senses to your advantage. With a few intentional practices, you can leverage sight, sound, smell, and touch to sleep more soundly. But more on that later!
Are Your Senses Working While You Sleep?
Even while you're asleep, your ears are hard at work. That's why loud noises will jolt you awake. From an evolutionary standpoint, it makes sense. If your body and senses completely shut off during sleep, you would be incredibly vulnerable. There would be no protection from predators.
Instead, your ears are constantly scanning for potential threats. And, even while you sleep, your brain is actively interpreting auditory stimuli, deciding what is relevant and what is not. (Which is why you might wake up to your baby's cries, but not your air conditioning unit chugging away.)
Your ears aren't the only sense organs at work while you sleep. If someone turns on the lights, there's a good chance you'll wake up—that's because your eyes are still taking in visual information, even while your eyelids are closed. The same is true of your sense of touch and even smell.
So what does this mean for you and your sleep?
Sleep Better Using Your Senses
When it comes to sleep, most people focus on the moments leading up to it. And while there is a lot you can do before you fall asleep, you can also take advantage of the fact that your senses are still operating while you sleep to promote sound, restful nights of sleep. Here's how you can sleep better using your senses:
Sight: When it's time to sleep, your body begins to release the hormone melatonin. But how does it know when to do this? It's part light cues and part circadian rhythm—which is just a fancy way of saying your body's internal clock. As the sun goes down and the world gets darker, the body naturally begins to release melatonin.
Here's the problem: the sun isn't the only source of light in your life. And there's a good chance you don't turn the lights down until you're settling in for the night. You may have better luck falling and staying asleep if you dim the lights in the hour leading up to your bedtime. Try to avoid any bright lights. And yes, that includes your TV and phone screen.
Sound: Obviously, a quiet environment is the most conducive for sleep. You may not realize, however, all of the noises present in your life. Whether it's the sound of traffic from outside or your AC unit in the window, the noises that fade into the background while you're awake can interrupt your sleep. To counteract this, consider soundproofing your room or turning the AC off at night.
Smell: Many people find that certain smells, such as the scent of lavender, help relax them. By exposing yourself to these smells, you can help yourself unwind before bed. Stress is a big culprit for restlessness, so the more you can relax before bed, the better you'll sleep.
There is some evidence that suggests these scents cannot only help you fall asleep, but also stay asleep. If you use a diffuser, consider leaving it on all night.
Touch: For many people, especially those who regularly toss and turn with anxiety, weighted blankets provide a big benefit. The physical sensation of weight on your body can have a calming effect, helping you both fall and stay asleep.
Taste: Chamomile tea has been used to help support healthy sleep for years—and with good reason. Studies have shown that chamomile contains the flavonoid apogen, which can have mild sedative effects. This can help you feel relaxed and, in turn, help you fall asleep.
None of these suggestions are a fix-all solution. Some may work for you, others may not. The point is not to make huge lifestyle changes. Instead, simply try being more mindful of your senses and the way they affect your sleep. And as you do that, intentionally try a few of these practices out. Hopefully your sleep will thank you!
Waking Your Senses Up in the Morning
You've woken from a good night's sleep—now what? In the morning, you'll likely want to shake off the drowsiness and start your day. Once again, your senses (especially sight) can help! Rather than keeping the curtains drawn and avoiding the sunlight, try to introduce some more light into your mornings. This will help suppress the release of melatonin, waking you up faster.
Additionally, you don't want to overload any of your senses immediately. Take it easy at first, being mindful of your senses and surroundings. Smell your coffee, and allow the scent to seep in. Savor the flavors of your breakfast. Slowing down a little bit in the morning can help you gear up for a productive day.
https://askthescientists.com/wp-content/uploads/2021/08/AdobeStock_141028853.jpeg
506
835
staff
staff
2021-08-24 11:00:06
2022-07-03 20:06:19
Sleep And The Senses: Tips and Tricks for Sounder Sleep