USANA Daily Mineral Protective Cream: Moisturizing Mineral Sunscreen for All Skin Tones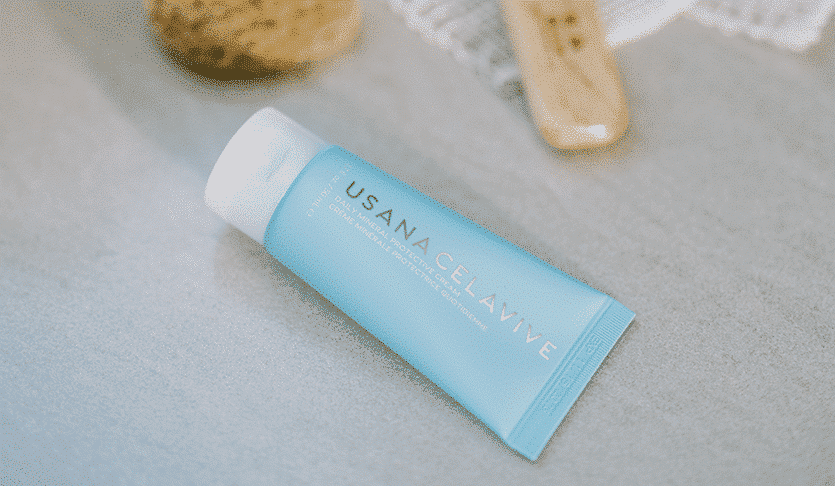 Sunscreens are a dime a dozen—with some offering one benefit at the expense of another. Mineral sunscreens are popular because they provide excellent sun protection without harsh chemicals. The only drawback of a mineral sunscreen is that it can be difficult to blend into your skin, often leaving streaks and a white cast. And that's why USANA Daily Mineral Protective Cream is unique among mineral sunscreens.
It's an easy-to-blend, sheer mineral sunscreen that provides SPF 30 sun protection without leaving you looking ghostly. This is possible because Daily Mineral Protective Cream is a tinted mineral sunscreen designed to block UV rays while visibly enhancing your natural beauty and glow.
Whether it's the beach, mountains, or just a walk around your neighborhood, step outside with confidence in your sun protection. Applying an even layer of Daily Mineral Protective Cream 15 minutes prior to sun exposure is a powerful defense against sun damage.
You'll feel better spending time in the sun knowing your go-to protection is also an environmentally friendly sunscreen. That's right, Daily Mineral Protective Cream is a reef-safe sunscreen. Older sun-blocking technologies rely on ingredients that have proven damaging to the ocean's ecosystems. USANA takes the health of the planet seriously, so this sunscreen is formulated to biodegrade without harm to coral reefs and other sea life.
Reef-safe, universally tinted, sheer mineral sunscreen that's SPF 30. USANA Daily Mineral Protective Cream has it all, making it your new go-to option for sunscreen you can feel good about. Take action to guard your skin and protect the planet by choosing USANA Daily Mineral Protective Cream. Your complexion (and the planet) will thank you.
A Mineral Sunscreen that Moisturizes and Shields Skin from the Sun
The active ingredient in USANA Daily Mineral Protective Cream is zinc oxide. Zinc is a dependable sunscreen ingredient because it offers broad-spectrum UVA/UVB protection. Mineral sunscreens containing zinc are also helpful in creating a barrier between your skin and hot, dry air that can contribute to moisture loss.
Zinc hydrates and soothes your skin, too. Irritation from sunburns can leave your skin feeling less than its best. The zinc oxide in USANA's tinted mineral sunscreen delivers hydration to support your skin's moisture balance and protect it from the sun.
Daily Mineral Protective Cream has another moisturizing factor. Olivol Botanical Blend is exclusive to USANA and the Celavive skincare line. This plant-based hydrating component of Daily Mineral Protect Cream provides 24-hour hydration to maintain your youthful beauty and glow. Your skin's natural moisture is enhanced with the blend's science-backed botanical extracts:
olive fruit (Olea europaea)
watermelon fruit (Citrullus lanatus)
apple fruit (Pyrus malus)
lentil fruit (Lens esculenta)
Together, zinc oxide and Olivol Botanical Blend offer sun protection that hydrates and moisturizes your skin. The sheer mineral sunscreen is a powerful tool in your skincare arsenal that can help maintain your natural beauty. And this tinted mineral sunscreen is grease-free and non-comedogenic so you can guard your skin from the sun without clogging your pores. That combination makes Daily Mineral Protective Cream an everyday option and the perfect companion for your sunny-day skincare routine.
Sheer Mineral Sunscreen for Various Skin Tones
Beautiful skin comes in a multitude of sumptuous shades that all need relief from the sun. Gone are the days of the thick, heavy, white sunblock. Today, there's a more inclusive approach to sun protection. You want sheer mineral sunscreen that complements a variety of skin tones while defending your complexion from the harsh rays of the sun.
That's why USANA Daily Mineral Protective Cream is universally tinted for maximum bendability. You don't need to worry about the streaks or white cast other sunscreens leave behind. It's mineral sunscreen strong enough to provide SPF 30 protection and gentle enough to suit sensitive skin. And Daily Mineral Protective Cream is lightweight and fast absorbing, so you spend less time prepping for outdoor play and more time enjoying fun in the sun.
Biodegradable Sunscreen That's Better for the Environment
Protecting the planet is a noble and worth-while cause. It's important to know the products you rely on are eco-conscious, too. Take, for starters, your sunblock.
Sunscreens don't always stay just on your skin. Inevitably some slips off after application. That can lead to the breakdown of sunscreen in the water, releasing some potentially harmful chemicals into the ocean. Two of the sunscreen chemicals of greatest concern are oxybenzone and oxtinoxate.
These ingredients are found in other sunscreens and can have serious consequences for sea life. Oxybenzone and octinoxate are contributors to the demise of coral reefs. And these chemicals can accumulate in the tissues of many marine wildlife.
Rest assured USANA has taken the health and wellbeing of the environment into account. Adding Daily Mineral Protective Cream to the Celavive line provides an option that has been specially formulated without oxybenzone or octinoxate.
Now when you're at the beach—or whenever water will be involved in your fun in the sun—you can take action to protect the oceans and marine ecosystems. Reach for USANA Daily Protective Cream for a reef-safe sunscreen that works for you and the environment.
Sunscreen That Blocks Against Blue Light
Wrapped inside Daily Mineral Protective Cream are blue-light blockers to protect your skin. Ultraviolet light isn't the only kind of light that affects the health of your skin . Blue-light exposure can influence the appearance of your skin, too.
USANA Daily Mineral Protective Cream addresses these problems with blue-light blockers built into your sunscreen. They are derived from ingredients—including winter cherry and beta-carotene—to help your skin resist the effects of blue light to keep it looking beautiful.
Blue light is tough to escape because it's everywhere—emitted by the sun and your smart phone. Digital devices, computers, and television screens all increase your blue-light exposure during the day. Recent research indicates spending many hours in front of blue light can lead to visible signs of aging for your skin.
Skin cells exposed to low levels of blue light over long periods of time have been known to lose some of their plump appearance and youthful-looking tone. Blue light has also been associated with the appearance of lowered skin bounce and glow, hallmarks of young-looking skin.
Research suggests that sunscreen offers some benefits even when you are inside and exposed to blue light. That's why it's so important to include sunscreen in your morning skincare routine. Apply it daily to protect from light rays indoors and out. The blue-light blockers in Daily Mineral Protective Cream provide an added boost of protection to keep your skin looking young.
USANA Daily Mineral Protective Cream: Good for the Environment, Great for Your Skin
Support your skin with the sun defense of USANA Daily Mineral Protective Cream. Application is simple. Apply a generous amount to the face and neck to cap off your morning skincare routine. Work the sheer mineral sunscreen into your skin. Then you can step outside with confidence knowing you have sun protection that is environmentally conscious and maintains healthy-looking skin.
Key Ingredients
Zinc Oxide
Olivol Botanical Blend
Paraben free
Octinoxate free
Oxybenzone free
Mineral-oil free
Formaldehyde free
Usage
Apply to forehead, cheeks, nose, chin, and neck as the last step in your daytime skincare routine.
Apply generously and evenly 15 minutes before sun exposure.
Reapply at least every two hours.
Ideal For
All skin types, including sensitive skin.
Frequently Asked Questions
Why does USANA have other sunscreens that contain chemicals like octinoxate?
People's needs are different. USANA provides different options for different uses. This mineral sunscreen offers an eco-friendly option for daily use, and is especially important for those who will be in or want to protect marine environments. The critical part is having choices so there's a sunscreen everyone can wear every day, no matter the location or activity, that fits their life and provides protection.
Can't find what you are looking for? Please try your search again or submit a question here