Celavive Clinical Trial Shows Younger-Looking Skin in as Early as Four Weeks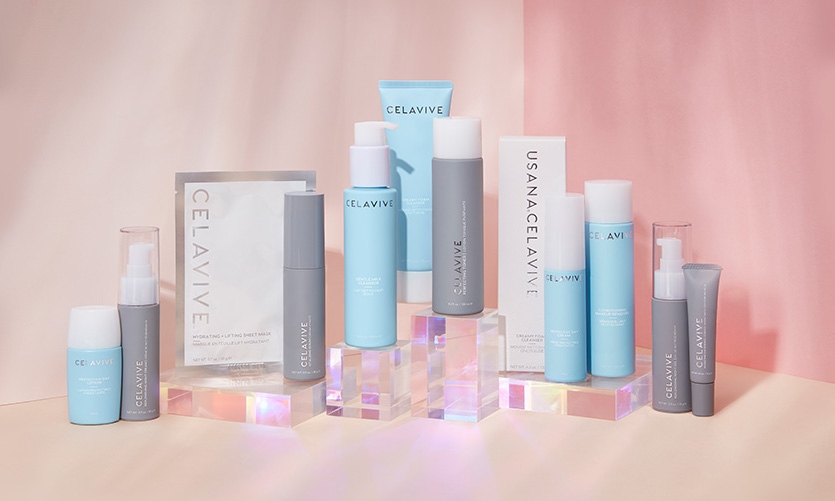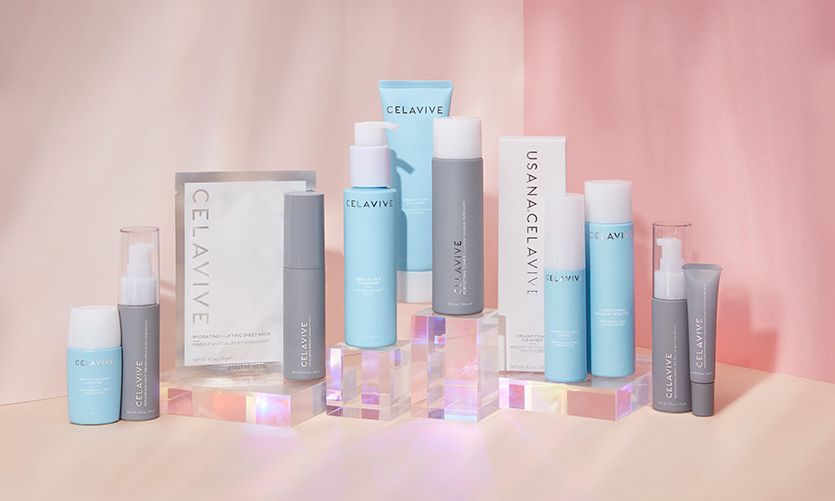 Skincare isn't always simple. From a pared-down cleanse-moisturize-protect routine to a 15-step Korean beauty regimen—and everything in-between—you may wonder what's the best approach for you? Which skincare products are the best to counteract the look of aging? How do you know if your products will really work?
Look for the proof.
A 2019 clinical trial on USANA Celavive regimens revealed real beauty benefits when products were used as directed for about two months. Below, you'll discover the impressive results of using advanced skincare that goes beyond what you see. And you'll understand why the majority of women who completed the study wanted to keep using Celavive® Skincare after the trial ended.
USANA Science Summary
USANA sponsored an unpublished, single-center clinical trial to determine the results of using the Celavive regimens for eight weeks. Tests were administered at the Dallas Research Center by Thomas J. Stephens & Associates, Inc.—an independent research organization.
Participants were women with a median age of 50–51 from a range of races and ethnicities.
The women used the Celavive regimen recommended for their skin type—dry/sensitive or oily/combination—including treatment products and the Exfoliating Scrub+Mask.
Significant improvements were seen in both clinical and self-perceived measures related to visible aging. Noticeable results included reduced visible fine lines and wrinkles, diminished look of pigmentation, smoother texture, and increased radiance.
Many changes were noticeable in as little as four weeks. And more enhancements were seen after eight weeks. This progression demonstrates continued use of Celavive Skincare can help your skin look and feel increasingly refreshed, revitalized, and refined.
Celavive Clinical Trial Design
Fifty middle-aged women—from a range of backgrounds and with moderate facial photodamage—were selected to participate in the Celavive clinical trial. Photodamage was defined as the presence of fine lines, wrinkles, uneven pigmentation, or other common visible signs of aging.
Digital images ("before pictures") were taken of the women's faces, using a photo station specifically designed for skin analysis. Then 12 clinical assessments of their skin condition were taken to establish a baseline. Researchers also measured skin's moisture levels using a Corneometer®—the instrument most widely used to determine hydration levels.
Beyond clinical measures, user perception was also evaluated. For this study, women answered a questionnaire to indicate their subjective opinion about 15 aspects of their skin's condition.
Group Demographics
The women self-selected their skin type and were split into one of two equal-sized groups: the dry/sensitive group or oily/combination group. Then they followed the Celavive regimen recommended for their skin type—applying products twice a day, in the morning and evening.
Step
AM
PM
Cleanse
Gentle Milk Cleanser

or

Creamy Foam Cleanser

Gentle Milk Cleanser

or

Creamy Foam Cleanser

+

(3x/wk) [3 times per week]

Exfoliating Scrub+Mask

Tone
Perfecting Toner
Perfecting Toner
Enhance
Vitalizing Serum

Hydrating Eye Essence

Vitalizing Serum

Hydrating Eye Essence

Hydrate
Protective Day Cream

or

Protective Day Lotion

Replenishing Night Cream

or

Replenishing Night Gel
The women returned to the clinic for follow-up after using the Celavive products for four and eight weeks. Digital images and the same clinical measures were taken. And they completed the same subjective questionnaire. Additionally, participants answered questions about their experience using the products.
The results were largely positive and are summarized below.
Radiant Results Reflected in Clinical Measures
The look and feel of your skin changes with age. For the Celavive clinical trial, several aspects of normal skin aging were measured:
Number and depth of fine lines and wrinkles
Size and perceptibility of pores
Look and feel of skin's texture
Luminosity or dullness
Evenness of skin tone
Level of discoloration
Skin sagging or tightness
Overall appearance of health
Statistically significant improvements in most clinical measures of visible skin aging were experienced in both groups by week four of using the Celavive regimens. And all parameters improved in both groups by week eight.
Clinical Grading Improvements at a Glance
Parameter

Dry/Sensitive

Regimen

Oily/Combination

Regimen

Week 4
Week 8
Week 4
Week 8
Appearance of fine lines
•
•
•
•
Visible wrinkles (whole face)
–
•
–
•
Visible crow's feet
–
•
–
•
Appearance of pores
•
•
•
•
Look of smoothness
•
•
–
•
Feel of smoothness
•
•
•
•
Softness to the touch
•
•
•
•
Radiance
•
•
•
•
Clarity
•
•
•
•
Skin tone evenness
•
•
–
•
Hyperpigmentation
–
•
–
•
Look of firmness
•
•
•
•
Overall appearance (healthy glow)
•
•
•
•
•     Indicates statistically significant improvement compared to baseline

–     Indicates no statistically significant change compared to baseline
No significant change was noted in Corneometer measures of skin hydration. However, there was an upward trend by week eight. (Celavive products provide topical moisture when applied daily. The lack of measurable change could be related to skin turnover rate, which slows with age—a longer study would be needed to confirm.)
Both groups experienced significant improvements in the clinical measures related to the look of aging. There were sizeable increases between weeks four and eight, indicating an increasing or cumulative effect over time. You can see the results for the dry/sensitive and oily/combination regimens below.
4- and 8-Week % Improvement: Dry/Sensitive Group
4- and 8-Week % Improvement: Oily/Combination
These results show that using the Celavive products together provides clinically measurable improvements in skin's look and feel in a short amount of time. While this study only lasted for two months, there's skin would likely continue to show even more visible enhancements when used long-term.
Participants Report Beautiful Benefits in Celavive Clinical Trial
Real-world results are the true test of your skincare routine. Women who participated in this trial provided firsthand reports of their experience with the Celavive regimens. Those who completed the study generally tolerated the products well. There were no serious reactions to the products, indicating that the products are generally safe for most skin types.
Most importantly, the assessments of product performance on their skin condition were nothing short of glowing.
After eight weeks, the majority of participants considered the look and feel of their complexion to be significantly better than before using the products. In fact, 80 percent of those using the oily/combination Celavive regimen and 84 percent of the dry/sensitive group reported improvements in how much they liked the overall appearance of their skin, even up close.
8-Week % Improvement on Self-Assessment of Skin Condition
When it came to a separate questionnaire on product performance, the participants' ratings were also quite favorable at week eight.
Most notably, 80 percent of the oily/combination-regimen group said they liked using the products. With 72 percent saying they would buy and continue using Celavive (assuming a reasonable cost).
Similarly, 96 percent of the dry/sensitive-regimen group said they liked using the products. And 92 percent would buy and continue using Celavive.
The chart below illustrates the percentage of favorable responses to questions about various aspects of Celavive product performance.
8-Week % Favorable Responses on Product Performance
Ready to Get Glowing? Do Your Own Celavive Trial                     
The results of the Celavive clinical trial demonstrate the noticeable benefits of following the recommended regimen for your skin type. In as little as two months, you may see a more youthful-looking complexion—with fewer visible fine lines and wrinkles, a more even skin tone, and smoother texture. Not only will your complexion glow with the look of health, it will feel refreshed, soft, and soothed.
To conduct your own trial, simply determine your skin type and use the Celavive regimen that's right for you. In two months, you'll see the radiant results for yourself.
Can't find what you are looking for? Please try your search again or submit a question here