Healthy Starts Here: Active Nutrition Program Kits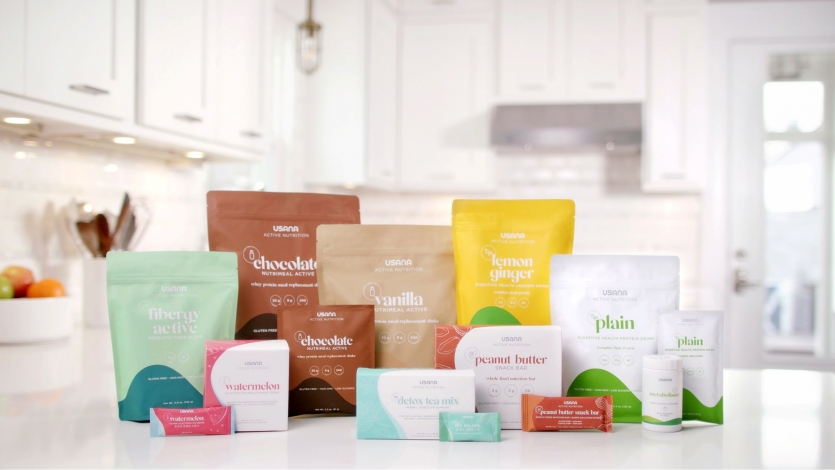 Realizing your healthy lifestyle goals is difficult, especially taking those first few steps. Healthy eating is a challenge for everybody. Enlist some help from the USANA Active Nutrition program kits to set you squarely on the right path to good—but hard-to-form—eating habits.
USANA curated three beginner-friendly kits to help you start on the road to excellent health. The Active Nutrition Jumpstart, Maintain, and Digestive Health Boost kits are easy to follow. They're seven- and 28- day programs formulated for your success, so you can develop better eating habits with the support to make new habits stick.
Give your dreams of optimal health the helping hand they need. You can find support and long-term success with the Active Nutrition kit that best fits your goals.
Active Nutrition Jumpstart Kit
Take a strong first step on your journey to a healthy lifestyle with Active Nutrition Jumpstart. Built with beginners in mind, this program offers the benefits of wholesome nutrition, as well as digestive and metabolism support, so you can set yourself up for success.
Jumpstart is all about forming new, healthy habits—specifically better eating skills. You need support as you realign your eating with healthy, nutritious food-and-drink options. The Jumpstart kit contains products from the Active Nutrition line that will help you on your way to where you want to be.
Plus, the Active Nutrition Jumpstart program is paired with USANA CellSentials. Maintaining cellular health is the root of your overall wellness. Jumpstart keeps that in mind. You can support your journey toward healthy eating with the CellSentials supplements included with the Jumpstart kit.*
Anyone looking to better their eating and develop healthy behaviors surrounding food can use Jumpstart as a launching pad for success. You may even experience noticeable changes in weight and energy as the result of your healthy eating during the weeklong Jumpstart. Take the plunge and build better food habits with the USANA Active Nutrition Jumpstart kit.
Program Overview:
Seven-day program aimed at resetting your diet and developing healthy eating habits.
Nutrimeal Active shakes for three nutrient-focused meals.
Support in the form of healthy snack options.
Probiotics and metabolism/energy support supplements are included to help jumpstart your weight-management efforts.*
Products Included:
Nutrimeal Active Meal Replacement Shake
USANA CellSentials
USANA Probiotic
USANA Metabolism+
Active Nutrition Maintain Kit
Continue your journey to a healthy weight by building on the foundation laid during Active Nutrition Jumpstart. The Maintain program is a natural transition following the amazing first steps you've already taken. Active Nutrition Maintain is designed to help fortify your newly developed healthy-eating practices. This can help you sustain long-term weight-management success with positive lifestyle changes.
The guidance and direction of Active Nutrition Maintain is designed to push you to power through any post-Jumpstart slumps. By following the recommended eating and supplementation schedule, you can transition into your new normal—a diet grounded in whole foods that support your weight-management goals.
With Maintain, you have the opportunity to incorporate your favorite fruits, vegetables, healthy fats, and lean proteins into daily meals. And you'll still have the support of a daily Nutrimeal Active shake to help you meet your nutrition goals.
Sustain your healthy habits and your weight with the Active Nutrition Maintain kit. This four-week-long program will help cement your healthy-eating habits and skills, so you can set yourself up for successful weight management in the future.
Program Overview:
28-day regimen designed to strengthen healthy habits.
Includes delicious, daily Nutrimeal Active shakes.
Focuses on long-term weight management by reinforcing healthy eating habits.
Optimized with USANA CellSentials, USANA Probiotic, and USANA Metabolism+ supplements for lasting success.
Products Included:
Nutrimeal Active Meal Replacement Shake
USANA Metabolism+
USANA Fibergy Active
Active Nutrition Digestive Health Boost Kit
Even the healthiest eaters can improve their digestion. That's why the Active Nutrition Digestive Health Boost kit makes a great addition to your daily routine. The helpful array of products puts the wellness of your gut and microbiome first, so you can digest comfortably and fuel a healthy internal microbiota.*
With help from probiotics, Digestive Health Boost supports healthy digestion so you can maintain regularity and comfort. The fiber-focused component of this kit also keeps you feeling fuller longer—an important step toward a healthy weight. Fiber provides prebiotic support to your microbiome, too, so those all-important gut bacteria can thrive.*
And let's not forget about protein. Servings of Digestive Health Protein Drink fit perfectly in this gut-focused, 28-day program to give you a nutrient-dense snack option that is easy on your belly.
Program Overview:
28-day plan to optimize gut health.*
Targets digestive wellness with a combination of soluble and insoluble fiber, as well as probiotics.*
Supports natural detoxification process and liver health.*
Includes high-quality protein drink that is low glycemic and easy to digest.
Products Included:
Digestive Health Protein Drink
Fibergy Active
Detox Tea Mix
USANA Probiotic
Active Nutrition Transform Kit
Transform your lackluster nutritional habits and commit yourself to eating well with the help of Active Nutrition Transform Kit. A shift from your current diet to one featuring whole foods and complete nutrition can be transformative for your overall wellness. With Active Nutrition Transform, you'll have the support you need to see changes in your energy levels, optimal diet quality, and even help maintaining your healthy weight.*
The Transform Kit is designed to assist you through 28 days of high-quality nutrition and supplementation to help you achieve your health and wellness goals. USANA Metabolism+ and Electrolyte Replacement Drink Mix are included in this weight-management program. These supplements work to optimize your metabolism and hydration throughout the Transform program so you can reap the maximum benefits of your hard work.*
Weight management is also a key component of Transform. The nutrition built into this program—plus the whole food meals you prepare on your own—can support and maintain a healthy weight. Transform focuses on whole body wellness with weight maintenance and management being just one of the many benefits this program offers.*
Program Overview:
28-day plan of transformative daily nutrition to support your body as you work to achieve healthy weight and diet goals.*
Twice-daily Nutrimeal Active meal replacement shakes for a simple solution to support quality nutrition.
A focus on optimizing metabolism and hydration with nutritional supplements to help you reach your wellness ambitions.*
Products Included:
Nutrimeal Active Meal Replacement Shake
USANA Metabolism+
USANA Electrolyte Replacement Drink Mix
Which Active Nutrition Kit is Right for Me?
Start by identifying your primary goal. Is it to reset your eating habits? Maintain a healthy weight? Or do you want to optimize your gut health?
Your answer will guide you to the right kit. And each program is poised to help you achieve your health-and-fitness aims—with tools to help you strengthen healthy behaviors and develop new, beneficial habits. Step into a happier you and activate your healthy lifestyle with the help of an Active Nutrition program kit.*
*These statements have not been evaluated by the Food & Drug Administration. This product is not intended to diagnose, treat, cure, or prevent any disease.
Can't find what you are looking for? Please try your search again or submit a question here